Weapons Supply to Myanmar: Dhaka urges sanctions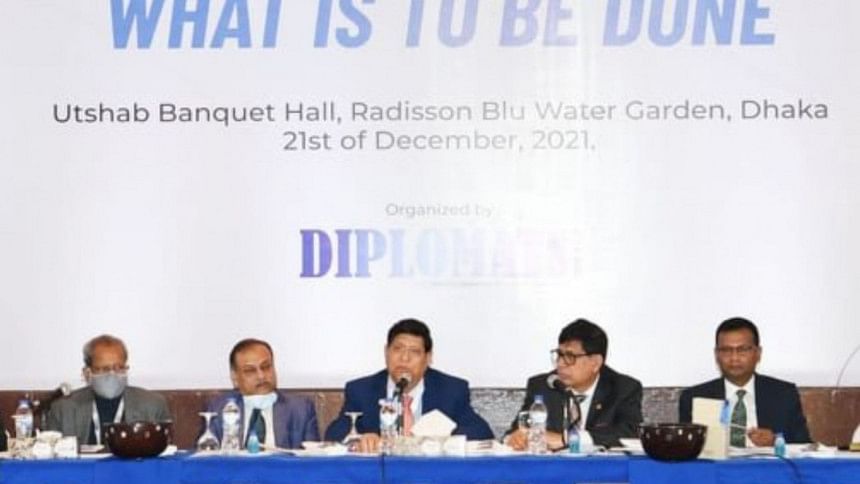 Bangladesh wants the international community to put pressure on Myanmar by imposing economic and arms sanctions so that the southeast Asian country takes back Rohingyas from Bangladesh at the soonest.
Foreign Minister AK Abdul Momen also floated the idea of forming a coalition of friends willing to address the Rohingya refugee problem, which has been creating huge problems for Bangladesh and the region.
"Many of our development partners have been selling weapons to Myanmar. This is very sad. There are countries providing arms worth $2.4 billion," he said at a seminar on the Rohingya crisis organised by a "DIPLOMATS", a local magazine, at the Radisson Blu Dhaka Water Garden in the city yesterday.
Besides China and Russia, India, South Korea, North Korea, Israel, Ukraine and the Philippines are supplying weapons to Myanmar, which is now being run by the military after a coup in February.
"There should be sanctions on Myanmar so none can supply weapons to Myanmar.
"Unless Myanmar is under effective pressure, they are not going to do anything. That pressure is missing," Momen said.
He also said many of the western countries that oppose genocide and promote human rights are still increasing their trade with Myanmar. In the last four years, their business with Myanmar has increased manifold.
Bangladesh has sheltered Rohingyas since the 1970s when they fled persecution by Myanmar authorities.
Effective pressures including economic sanctions on Myanmar prompted it to take back Rohingyas in the past, but despite agreements with Myanmar since the largest influx of 750,000 Rohingyas in 2017, there has not been any repatriation.
Apart from putting pressure, the friendly countries and UN agencies need to work to create conducive conditions in Rakhine, he said.
Asked, Brig Gen (retd) M Sakhawat Hussain – a security expert and former election commissioner -- said generally western countries impose sanctions.
If the US imposes such sanctions on arms supplies, it will surely be a blow to Myanmar as many of the countries will not be able to do money transactions with it, he said.
Also, having a coalition of friends is a good idea because a number of countries, including Bangladesh, Pakistan, Malaysia, Thailand, Saudi Arabia, Canada and the Netherlands face problems due to the influx of Rohingya refugees. They can surely form a coalition and work globally to address the crisis.
If Bangladesh wants repatriation of the Rohingyas, it needs to explore different avenues including establishing contacts with the National Unity Government (elected government leaders) and the Arakan Army that is trying to establish autonomy in Rakhine State.
Prof Imtiaz Ahmed of International Relations (IR) Department of Dhaka University suggested engaging China, India and Japan, the major regional players, more vigorously for Rohingya repatriation.
"These countries can play a key role," he said at the seminar.
He said the western countries had not imposed sanctions on Myanmar for so long as they tried to promote democracy under Aung San Suu Kyi, but now the country is under a military regime and more than a thousand civilians were killed by the military since February.
Major economic sanction is the only way to put pressure on Myanmar, he said.
Prof Delwar Hossain of the international department of Dhaka University said Myanmar has been conducting atrocities against and ethnic cleansing of many ethnic groups for decades, but the global community has not been serious about it. 
He suggested that the UNGA include the issue of sanctions in its resolution on Myanmar.
He also said the global civil society has been focused on the situation of Rohingyas in Bangladesh, but not the persecution in Myanmar and it is high time the international community shifts its eyes on Myanmar.
UNDP Resident Representative Sudeepto Mukherjee and Bhorer Kagoj Editor Shyamal Dutta also spoke at the event, among others.