'We see more opportunity, less challenge'
South Korean envoy on bilateral collaboration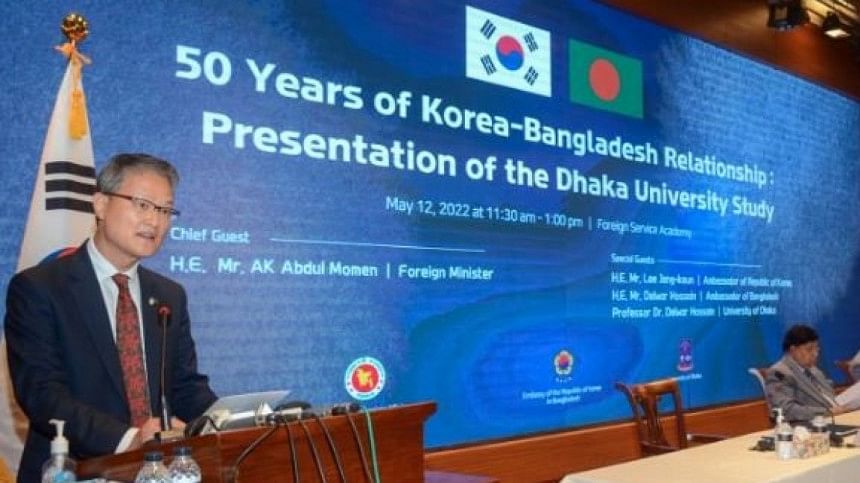 The current global geopolitical situation is creating more opportunities rather than challenges for South Korea and Bangladesh for closer collaboration due to their deep relationship, said Ambassador Lee Jang-keun yesterday.
"The companies have realised the risks from geopolitical confrontations and the necessity of diversifying their investment and partners. Bangladesh is becoming an increasingly attractive partner for Korean companies," he said while addressing a seminar on 50 years of Bangladesh-South Korea relations at the Foreign Service Academy.
The foreign affairs ministry, South Korean Embassy in Dhaka and the Dhaka University's East Asia Study Centre organised the event.
Foreign Minister AK Abdul Momen was present as chief guest, while Lee Jang-keun and Bangladesh Ambassador to Korea Delwar Hossain were special guests. Dhaka University International Relations Prof Dr Delwar Hossain chaired the event.
Lee Jang-keun said Bangladesh and Korea produced many successful collaboration stories during the past five decades, like the RMG collaboration.
Korea has also become one of the most popular destinations for Bangladeshi  expatriate workers. The remittance earned from Korea has increased from $80 million in 2016-17 to $209 million in 2020-21.