US wants more durable houses for Rohingyas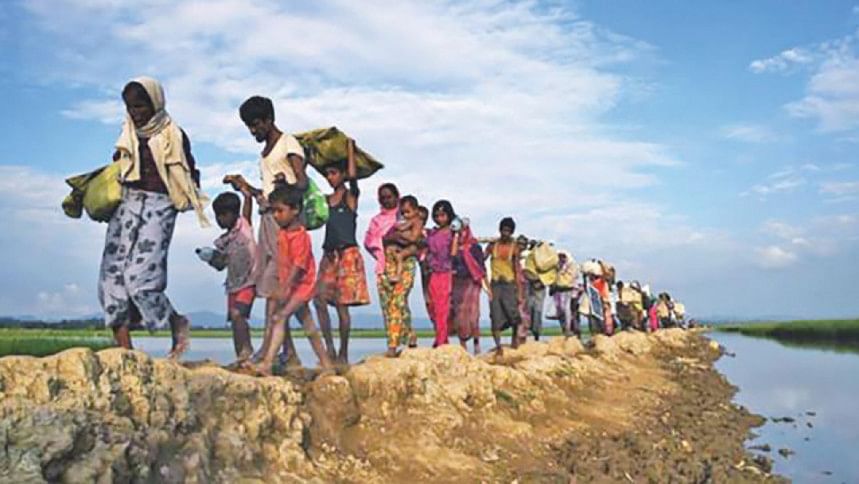 The US wants semi-durable houses for the Rohingyas and allowing them income-generating activities in Cox's Bazar as part of the policy to cut cost for the refugees.
Janine Wynne, deputy assistant secretary of State of the Bureau of Population, Refugee and Migration offered the idea during a meeting with acting Foreign Secretary Rear Admiral (retd) Khurshed Alam and foreign ministry's Director General (Myanmar) Mia Md Mainul Kabir at the ministry yesterday.
They discussed the challenges faced by the Rohingyas as well as Bangladesh as the humanitarian assistance for the Rohingya is declining because of global challenges elsewhere.
As of August this year, the funding for the Rohingyas was only 30 percent of the required $875 million. Early this year, food ration has also been slashed from $12 a month to $8 per month for each Rohingya.
A foreign ministry official told this correspondent that the UN has developed a plastic-made semi-durable model house.
"Wynne said that type of housing could be cost-effective. We agreed to the spirit of the proposal, but said that the use of plastic would be hazardous for the environment. Then she said we can be creative in how we do that," he said.
On the issue of involving the Rohingyas in income-generating activities, the official said, Bangladesh government would not agree to that.
Janine Wynne said that the US has been the largest donor for the Rohingyas' humanitarian assistance and will continue to provide the support.
"We said we want Rohingya repatriation because that is the ultimate solution. She said the repatriation should be sustainable," the foreign ministry official said.