US wants Bangladesh vocal against Ukraine war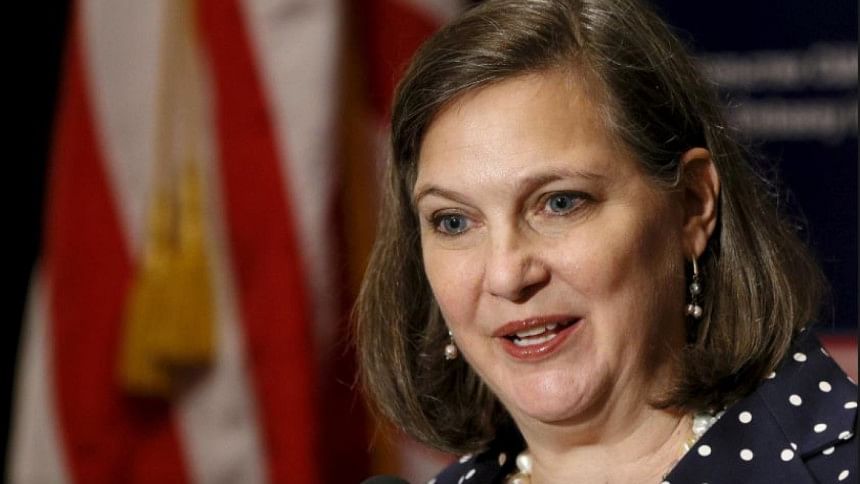 The US wants Bangladesh on its side as it endeavours to end the war in Ukraine, said a top American diplomat yesterday.
On March 2, a UN General Assembly resolution Bangladesh was among 34 countries -- including India, Pakistan and China -- that abstained from voting in the UN General Assembly resolution on March 2 that reprimanded Russia for invading Ukraine and demanded that Moscow stops fighting and immediately withdraws its military forces.
"This is a moment for all free nations and all free people to stand together with the people of Ukraine and say this war must end," said Victoria Nuland, the US undersecretary for political affairs.
Nuland's comments came at a press briefing after the eighth US-Bangladesh Partnership Dialogue at the State Guesthouse Padma.
The US and its allies negotiated for months to prevent Russia from the invasion but Moscow did not listen.
"Now the apartments and maternity hospitals are being bombed and civilians are becoming victims. You are all watching the horrible pictures coming from Ukraine," she said.
Russia's invasion of Ukraine violates sovereignty, territorial integrity and the basic fundamental principles of international law and the UN charter.
"This is a battle between autocracies and democracies around the world."
US WON'T BE SILENT OVER HUMAN RIGHTS ABUSES
At the dialogue, Bangladesh raised deep concern about the recent US Treasury sanctions on RAB and seven of its current and former officials, saying that this might affect the efforts of Bangladesh to combat terrorism and transnational crimes.
Nuland said she knows the sanction has been a difficult issue for Bangladesh.
"We have concerns about how the RAB has performed about extrajudicial killings, about disappearances. That said, we have seen progress in the last three months with regard to mitigating these things."
At the dialogue, Foreign Secretary Masud Bin Momen, who led the Bangladesh side, said he presented a dossier on what measures the Bangladesh government is taking to improve RAB's human rights records.
"We look forward to working together on these things because our security and counterterrorism cooperation is so important," Nuland said, adding that the US is never going to be silent on human rights abuses and violations of basic law.
Yesterday's dialogue was the beginning of a series of meetings this year.
Foreign Minister AK Abdul Momen will meet US Secretary of State Antony Blinken on April 4 marking the 50 years of diplomatic relations. Then, there will be security dialogue, defence dialogue and the US-Bangladesh Business Council in the following months.
"We already have a strong partnership. We will deepen and thicken it in the coming days," said Nuland, who also had a separate call with Foreign Minister AK Abdul Momen.
Foreign Secretary Momen underscored the shared commitment to democratic governance and human rights serves as the fundamental basis for Bangladesh-US partnership.
Bangladesh also reiterated its strong commitment to upholding all kinds of civil and political rights of the people.
US TO INCREASE SECURITY COOPERATION
The two governments agreed to continue to cooperate closely to advance a shared vision of a free, open and secure Indo-Pacific region, underscoring the need for having an economic component in the Indo-Pacific Strategy.
In the context of a broader Indo-Pacific Strategy meant to establish a rules-based system over the Indo-Pacific Ocean, Nuland said: "We think we can do more in the areas of security, particularly maritime security (both bilaterally and regionally). And that's what we want to do."
Asked about the signing of any defence deal with Bangladesh, she said they handed a draft agreement -- GSOMIA (General Security of Military Information Agreement) – to the Bangladesh side.
GSOMIA is a foundational agreement that facilitates security cooperation.
"We are very confident that we will be able to get this issue settled and that's what we look forward to."
The US sought to sign GSOMIA and the Acquisition Cross-Servicing Agreement (ACSA) in 2019 after Bangladesh had sought to buy defence equipment from the US in 2018.
Nuland leaves Bangladesh today.