'US sanctions on Rab not punishment, rather a warning'
Agriculture Minister says following meeting with US Ambassador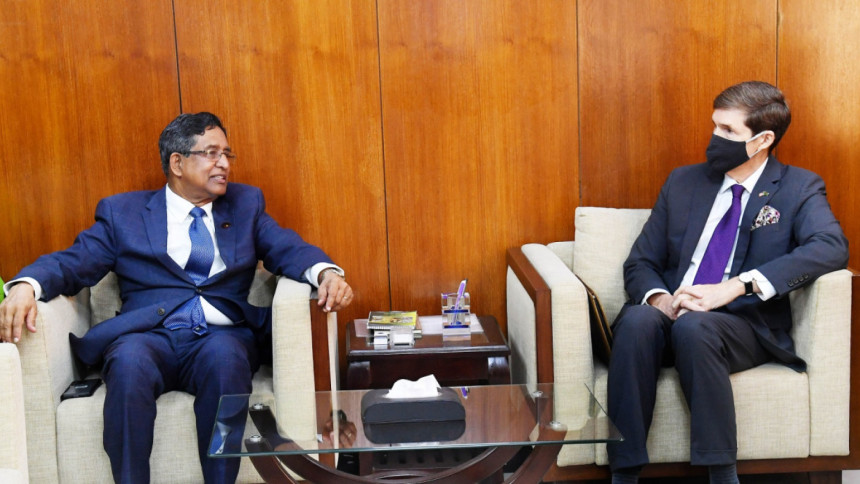 US sanctions on Rab and seven of its current and former officials were not meant to punish Bangladesh but to warn against the violation of human rights, Agriculture Minister Abdur Razzaque said today following a meeting with US Ambassador Earl Miller.
"I had a meeting with him (Miller). He said the US sanctions on the law enforcement agency were not aimed at punishing Bangladesh, but to warn us," he told reporters after the meeting at the Secretariat.
The US is attaching high importance on human rights and they perceive that the law enforcers in Bangladesh have violated human rights in some cases and that those need corrections, the minister said.
They hope that Bangladesh would carry out the corrections, he added.
In response to Miller's observations, the minister said it was regretful that the US has put Bangladesh in the same category as North Korea and Myanmar.
"I said the human rights situation in Bangladesh is good. No human rights violations have happened here," Razzaque said.
He said law enforcement agencies may have made mistakes in some cases, and 190 Rab officials faced punishment for that.
Miller, who is returning to US after his tenure ends, will be discussing the issue with the higher authorities in Washington so that the sanction is withdrawn, the minister said.
Razzaque and Miller also discussed agriculture, economy, global and regional issues.
He said the US has provided significant support to the agricultural research system development.
Miller said Bangladesh is the 26th largest market for US agricultural products and the cooperation between the two countries on agriculture will increase in the coming days.