Graduation from LDC - US can be 'our most robust partner': PM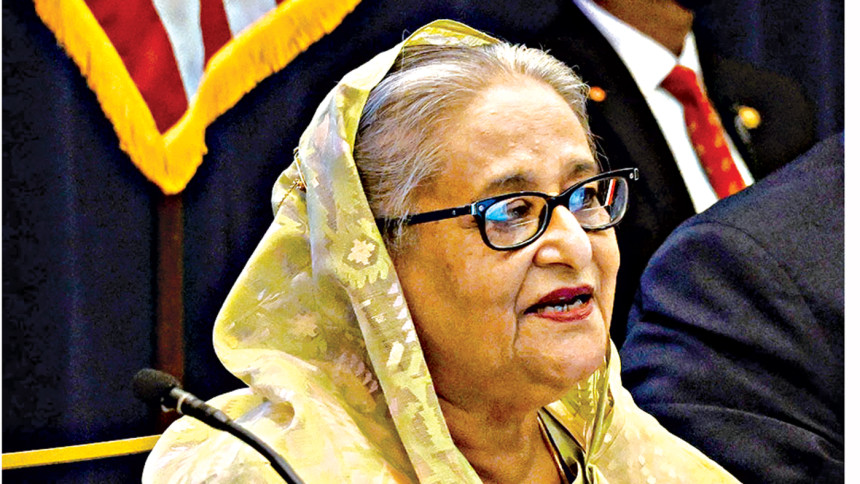 Prime Minister Sheikh Hasina has invited US investors to come to Bangladesh to tap into its liberal investment policy.
"I would like to invite US investors to invest in renewable energy, shipbuilding, automobile, pharmaceuticals, heavy machineries, chemical fertilisers, ICT, marine resources, medical equipment, and Covid-19 vaccine manufacturing in Bangladesh," she said.
The PM made the call while delivering her speech at a high-level policy roundtable arranged by the US-Bangladesh Business Council at Lotte New York Palace hotel.
She listed some components of the liberal investment environment -- foreign investment protection, tax holiday, remittances of royalty, unrestricted exit policy, and full repatriation of dividends, capital on exit.
"Let us once again join our hands for a mutually inclusive partnership for sustainableeconomic growth," Hasina told the businesspeople.
Hasina said Bangladesh is establishing 100 special economic zones (SEZs) and several hi-tech parks in different parts of the country. Having more than 6,00,000 freelancing IT professionals, Bangladesh is the right destination for IT investments, she added.
"Moreover, skilled human resources at a competitive wage is an added advantage in Bangladesh. Even if required, we would be happy to offer a dedicated Special Economic Zone for the US investors."
She said the US-Bangladesh Business Council can play a significant role in this regard.
Noting that Bangladesh will graduate from the LDC status by 2026, the PM said the country needs adequate support to enhance its global competitiveness and export basket. "I am sure that the United States can be our most robust partner in this challenging endeavour."
The premier said Bangladesh is a pioneer in South Asia inregional connectivity. Bangladesh's location offers tremendous potential for the country to become the economic hub of the region.
The proximity of Bangladesh to India, China, and Southeast Asian countries means it is in the middle of a combined market of 4 billion people, she said. "Technology and innovation are the keys for fast-track economic growth. Thus, Bangladesh has become the second largest RMG exporter, third largest producer of vegetables, fourth largest producer of rice, and fifth largest producer of inland fisheries in the world."
Hasina said Bangladesh would consistently pursue economic diplomacy with its neighbours and global players, including the United States. "We're continuously improving our physical, legal, and financial infrastructure and enhanced connectivity in the country."
She said completion of the Padma Bridge has enhanced both the domestic and regional connectivity, while Dhaka Metrorail Project is expected to open in December, which would enable faster domestic mobility.
The PM said Bangladesh made socioeconomicstrides in the last 13 years, particularly in the fields of women empowerment, poverty alleviation, nutrition, maternal and child health, primary education, and ICT. Continuity of government, investment in the rural economy, and women empowerment were the keys to success.
"Bangladesh is set to  graduate into a middle-income country by 2026 and on track to become a developed country by 2041," she added.
She noted that Bangladesh is in the process of transforming "Digital Bangladesh" into a "Smart Bangladesh", where ICT is playing a significant role.
She said the Bangladesh government recognises the necessity of ensuring labour rights in the country. The ILO Roadmap provides a clear plan of actions and timeline to address the concerns and suggests remedial measures in the labour sector.
"My government is adequately engaged with the United States and other development partners for continuous improvements in this sector," she said.
The PM informed that 102 percent of the targeted population (121 million) received at least two doses of Covid vaccines in Bangladesh. "Thus, our economy has shown great resilience in the face of the pandemic."
She deeply appreciated the US government for donating more than 75 million Covid vaccines to Bangladesh through COVAX.