Swiss bank deposits: Bangladesh discusses developing mechanism for exchange of info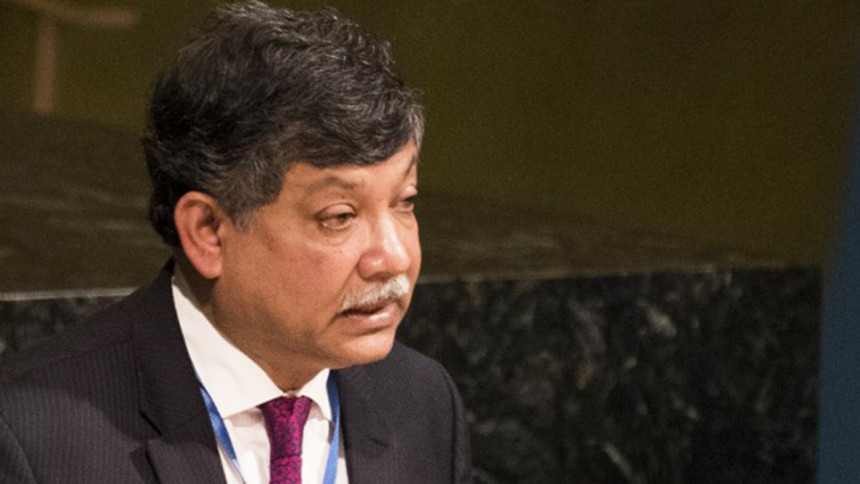 Bangladesh began discussions on developing a mechanism for exchange of information on funds deposited by the Bangladeshi citizens in the Swiss banks to ensure that there is no confusion over the matter.
The mechanism will also help bring back the money, if laundered from Bangladesh, said Foreign Secretary Masud Bin Momen.
"We will try to ensure that no one from Bangladesh makes illegal transfers of money. It is not only about Switzerland but also about other countries. For example, we know about the tax havens like Panama and Caribbean islands," he told reporters at the foreign ministry today.
Swiss Ambassador Nathalie Chuard at a DCAB event at the National Press Club on August 10 had said Bangladesh authorities did not seek information on any particular funds from Swiss authorities.
She also said Switzerland provided the Bangladesh government all available information on how to reach an agreement on the funds of Bangladeshi citizens in the Swiss banks.
The next day, Foreign Minister AK Abdul Momen said that the statement of the Swiss ambassador was not true.
In the wake of an embarrassing situation, the High Court intervened. Bangladesh Financial Intelligence Unit (BFIU) and Anti-Corruption Commission placed two separate reports before the High Court, saying that BFIU sought information from Switzerland Financial Intelligence Unit (SFIU) through Egmont Secure Web (ESW) about 67 persons and organisations, who have allegedly deposited money to banks in Switzerland.
However, the SFIU conveyed that they have no information on them except one.
Against such a backdrop, Foreign Ministry officials held meetings with the Swiss officials both in Dhaka and in Bern, the capital of Switzerland last week.
Foreign Secretary Masud Bin Momen said presently the BFIU and an independent body of Switzerland, not the Swiss government body, have communication. That's why the Swiss ambassador may be not aware of all the issues concerned. Possibly that is why the confusion has been created.
So, Bangladesh and Switzerland authorities want to have a mechanism through which different entities concerned of the two countries will coordinate so that there is proper exchange of information.
"Switzerland is our friendly country and a development partner. So, we don't want to create any such impression that is not right," Momen said.
Asked if the Bangladesh government will sign any agreement on exchange of information, he said Swiss authorities have made some suggestions and if those are acceptable, the government will go ahead.
"We need to keep in mind that the information of bank funds is regulated by their domestic law and not all information can be publicly disclosed," he said, adding that the government also has obligations to maintain the regulations.
Asked what was necessary if Bangladesh wants to investigate people laundering money to the foreign land, Masud Bin Momen said, "Competent authorities can say that, foreign ministry does not deal with convictions."
He also said the perception that all make illicit money transfers abroad is not right. There are many Bangladeshi expatriates who do business and deposit money in the foreign banks.