South Korea for stronger policy support from govt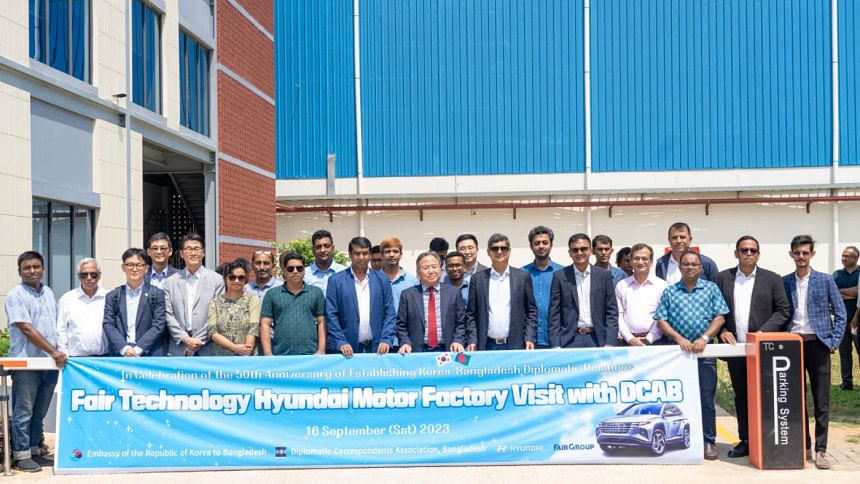 South Korea wants stronger policy support from the government for encouraging manufacturing sector that can create jobs and help Bangladesh successfully secure the Middle-Income Country Status.
"Duty-free quota will be removed as Bangladesh moves from the LDC status. There will be many difficulties when you enter the competitive global market. A lot of things need to be done – both at private and public sectors," said South Korean Ambassador to Bangladesh Park Young-sik.
He made the comment while interacting with the members of the Diplomatic Correspondents Association Bangladesh (DCAB) during a visit to the manufacturing plant of the Hyundai Motors -- a joint venture of Bangladeshi company Fair Technology and Hyundai -- at the Kaliakoir Bangabandhu Hi-Tech Park in Gazipur today.
The manufacturing began early this year and the company is making 150 cars per month. It plans to manufacture 6000 Hyundai cars next year.
"Such manufacturing factory is very important for Bangladesh because it creates jobs for local youths, it works as a way of technology transfer and you get brand new cars, instead of second-hand cars whose carbon emission is higher than new cars," Ambassador Park Young-sik said.
However, Bangladesh's industrial policy is not adequately supporting the manufacturing sector, he said.
For example, Bangladesh uses 98 percent imported cars, and only 2 percent cars are locally assembled or manufactured, he added. If at least 15 percent of cars are locally manufactured, it can create lots of jobs and help local economy, the diplomat said.
Asked what are the challenges of local manufacturing and foreign direct investment, he said investment environment needs to improve.
"Even my colleagues faced difficulties in getting visa or renewing visas. Not only Korean companies, but also other foreign companies face difficulties in opening LC," Pak Young-sik said.
Also, he said, the taxation and customs system are not always transparent. These basic aspects need to be improved.
"Before asking for foreign investments, improve environment for investments."
Ruhul Alam Al Mahbub, chairman of Fair Group, said they are planning big for more value addition to the manufacturing of cars and other electronic products, but they need stronger policy support.
"It was unimaginable that we could set up a car manufacturing plant. We could do it because of the government support. Our next plan is to set up a much bigger plant than this one. We want to go for full body and parts manufacturing," he said.
Ruhul Alam said the government needs to think of promoting locally-manufactured cars and taking decisive policy towards this end.