Saudi Arabia will act to stabilise oil prices in global market: KSA foreign minister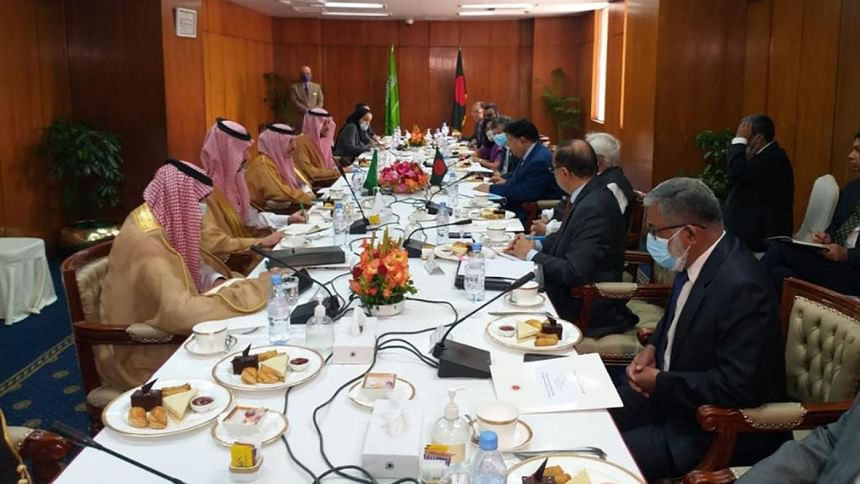 Saudi Arabia will take all measures possible to stabilise oil prices in the global market, said Saudi Foreign Minister Faisal bin Farhan Al Saud today following the first political consultation of the kingdom with Bangladesh.
He said this following his meeting with Foreign Minister AK Abdul Momen at the Pan Pacific Sonargaon Hotel in Dhaka.
The statement came when global oil prices are skyrocketing with the US and other western countries slapping sanctions on Russian energy supplies.
The Saudi foreign minister also told media that Riyadh and Dhaka will work together to boost security and multidimensional relationship.
He said that 20 Saudi companies are interested in investing in the special economic zones of Bangladesh.
Foreign Minister AK Abdul Momen said that the two countries signed a memorandum of understanding between the Bangladesh Foreign Service Academy and Saudi Arabia's King Faisal Institute.
Momen said that he requested the Saudi side to complete all the operations of Hajj visas in Bangladesh and the Saudi minister has assured him of it.
Momen also thanked his Saudi counterpart for vaccinating all the Bangladeshi workers in the Gulf country, which is home to some two million Bangladeshis.
Earlier in the morning, the Saudi foreign minister called on Prime Minister Sheikh Hasina at Gono Bhaban.
Faisal bin Farhan Al Saud arrived in Dhaka on a two-day visit.