Raised our concerns with Dhaka
Says State Dept official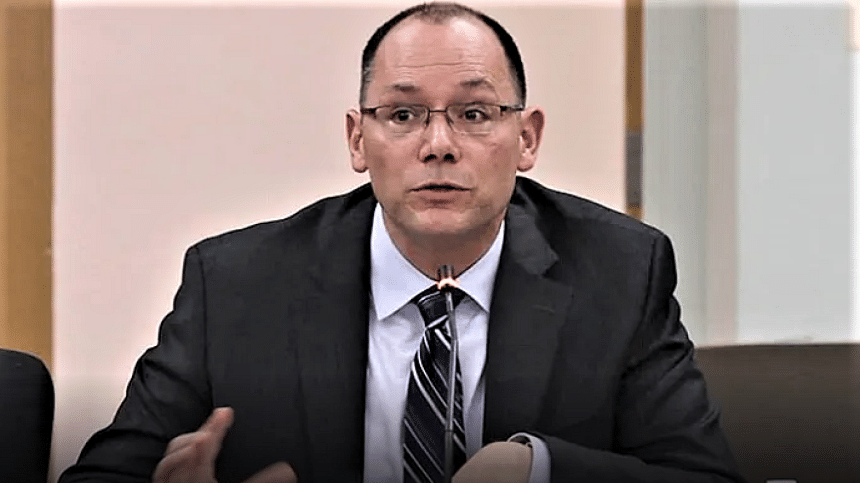 US Ambassador Peter Haas and embassy staff had to wrap up a meeting in Dhaka early on December 14 due to security concerns, said US State Department Principal Deputy Spokesperson Vedant Patel.
"And we have raised our concerns about this matter at the highest levels of Bangladesh government," he told a press briefing at the US State Department yesterday.
He made the comments in response to a question on the US envoy's visit to the house of BNP leader Sajedul Islam Sumon, a victim of enforced disappearance in 2013, where other families gathered as well.
The Dhaka event was arranged by 'Mayer Dak', a platform that advocates for the return of the victims of enforced disappearance.
Sumon's mother is the key organiser of the platform.
Mayer Kanna, a platform representing the families of the victims of 1977 court martial during the regime BNP founder late president Ziaur Rahman, gathered in front of Sumon's house before the ambassador's arrival and tried to hand over to the ambassador a memorandum seeking justice.
Patel said the US is committed to taking actions consistent with its values and recognises the respect for human rights as a prerequisite for global peace, security, and prosperity.
"And as a key element of our bilateral relationship, we raise human rights with our Bangladeshi counterparts when we have concerns about developments that erode space for independent media, civil society, and free and fair elections."
Meanwhile in Dhaka, Foreign Secretary Masud Bin Momen yesterday said there is no scope to consider the incidents surrounding Haas's visit to the house of Sajedul Islam as a security threat.
They will also not affect the bilateral relations between the two countries because there are myriad avenues of friendship that have improved over the years, he told journalists after an event on Bangladesh-Thailand relationship at the Foreign Service Academy.