Rab may have done some excesses but there's accountability, Momen tells Blinken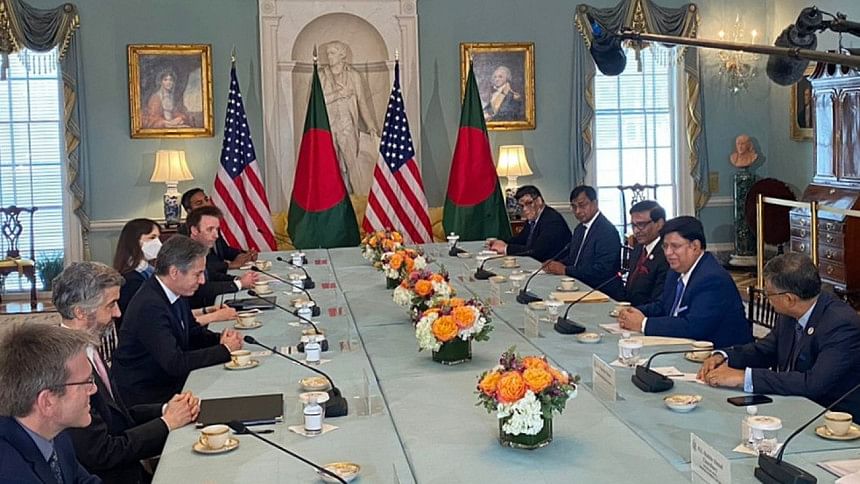 Foreign Minister AK Abdul Momen has strongly made the case for withdrawing sanctions on Rab and its seven current and former officials to US Secretary of State Antony Blinken, as they held a meeting at the latter's office in Washington last night (April 4, 2022).
"I said there were major problems of militancy and terrorist activities in Bangladesh. A grenade attack on an Awami League rally killed 24 people and left more than 300 injured. So, people were afraid. In such cases, Rab played an important role," Momen said.
"Former US ambassador James Moriarty also lauded the role Rab played," he said after meeting Blinken and USAID Administrator Samantha Power in Washington.
Now, because of US sanctions, young people will be discouraged to join Rab, he said.
Momen also told Blinken that sometimes Rab may have done some excesses but there is an in-built system for accountability and those who did wrong were brought to book.
He also said that there was no complaint of anyone being killed by Rab – which Blinken supposedly appreciated.
Asked about Blinken's response, Momen said they have a certain process.
"I am hopeful that the sanctions on Rab will be withdrawn," he said.
REINSTATING GSP
Momen also requested Blinken to reinstate the GSP facility, which was suspended in 2013. In response, Blinken said they are aware of complaints involving labour issues.
"If you can improve the labour situation, we will reinstate GSP," Momen quoted Blinken as saying.
He said he responded by saying that Bangladesh has improved a lot in terms of labour rights and that should be recognised.
"Let's have a roadmap on solving the labour issues. Let us discuss," Momen told Blinken.
He also told Blinken that Bangladesh is a small country with high population density and things are not as easy as in the US where population density is not an issue.
'INVEST IN INFRASTRUCTURE, IT, PHARMACEUTICALS'
Momen also requested the US to invest in infrastructure development. In response, Blinken said they would consider it.
He also requested the US to help Bangladesh improve ease of doing business. Blinken responded positively, according to Momen. Over the last two years, Bangladesh improved by eight notches in the ease of doing business report.
Momen told Blinken that Bangladesh has become a land of opportunity.
"Ninety percent of US investments are in the energy and power sectors. I want you to invest in other sectors like IT and pharmaceuticals. We have seven lakh IT experts. If you invest in the pharmaceutical sector, your country can get medicines at affordable prices," Momen told Blinken.
During the meeting, Blinken sought Bangladesh's partnership to implement its Indo-Pacific Strategy.
"I said we also want a free, inclusive, open and secure Indo-Pacific. We will work together," Momen said.
Momen thanked Blinken for US recognising Myanmar's violence against Roingyas as genocide. He also said that the US should do more for a sustainable solution to the crisis. The US can work with the ASEAN and QUAD members towards this end.
'EXPATRIATE BANGABANDHU KILLER RASHED CHOWDHURY'
He raised the issue of expatriating Rashed Chowdhury, killer of Bangabandhu.
"It would be a game changer if he is returned. There is provision of seeking mercy if he is returned," Momen told Blinken.
He said that a murderer should not be sheltered by the US. Earlier, there was a process of returning and that should be completed, he told Blinken.
He also told Antony Blinken that there should be direct Biman flights on the New York-Dhaka route. There are some six lakh Bangladeshis living in the US and it would be of great help for them.
He invited Blinken to visit Bangladesh at a convenient time.
During his meeting with US Administrator Samantha Power, Momen discussed the issues of climate change and building strong embankments in the coastal areas and that the USAID could provide funding for those. He also requested funding Bangladesh's mega projects that are needs of the day.
Altogether, it was a good discussion in Washington, Momen said.
Awami League Joint General Secretary Mahbubl Alam Hanif MP, Naim Razzaq MP, Foreign Secretary Masud Bin Momen, Secretary (West) of the foreign ministry Shabbir Ahmad Chowdhury, Bangladesh Ambassador to the US Shahidul Islam and Foreign Ministry Director General (America) Toufiq Islam Shatil accompanied the minister.
Momen will hold meetings with a few Congressmen and attend meetings organised by think tanks in Washington. He will also visit Florida to inaugurate the Chancery Building of Bangladesh Consulate there. He will then visit New York before returning home.