President seeks Italian investment in Bangladesh's EPZ, hi-tech parks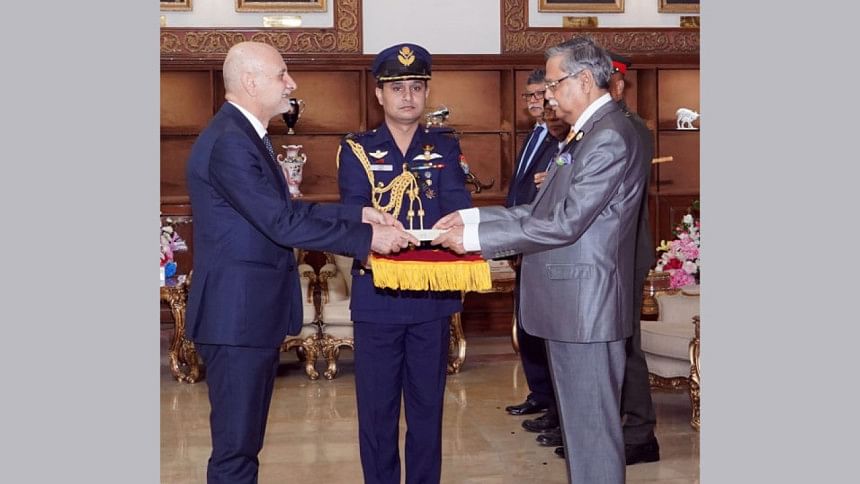 President Mohammed Shahabuddin today urged the Italian investors to invest in export processing zones (EPZs) and hi-tech parks of Bangladesh.
He sought the investment as new Italian ambassador to Bangladesh Antonio Alessandro presented his credentials to the president at Bangabhaban here.
"There is an ample opportunity to invest in Bangladesh...as it has an investment-friendly atmosphere for the entrepreneurs," President's Press Secretary Md Joynal Abedin quoted the president as telling the envoy.
Welcoming the Italian government's interest in taking more manpower from Bangladesh under Italy's "Legal Migration Scheme", the president also urged the country to take more workforce from Bangladesh.
"Italy is the 6th largest export destination of Bangladesh . . . And the bilateral trade volume exceeded 3 billion dollars last year," he said.
Thanking the Italian government and people for their cooperation in dealing with the Rohingya crisis, the head of state requested them to continue putting pressure on Myanmar for the safe repatriation of the Rohingyas to their country.
Shahabuddin told the new ambassador that the relationship between Bangladesh and Italy is very excellent and the 50 years of diplomatic relations between the two countries is indeed a milestone of bilateral ties.
He said that the prime minister's participation in the Food System Summit to be held in Italy in 2023 and his state visit to Italy in 2020 marks the beginning of a new chapter in the relationship between the two countries.
President Shahabuddin said the recent signing of the energy and cultural exchange agreement has brought more dynamism in the relationship between the two countries.
Apart from this, he said, discussion is going on about increasing cooperation in the fields of defence, immigration, security, and cyber security between the two countries.
The Italian ambassador said his government attaches great importance to the development of relations with Bangladesh and would work on new areas to expand bilateral ties.
Referring to Bangladeshi expatriates' contributions to the development of Italy, he said Bangladeshis living in Italy are very disciplined and dutiful.
The envoy also appreciated the role of peacekeepers of Bangladesh in maintaining world peace.
He sought the president's cooperation in fulfilling his new assignment in Dhaka.