Pre-Polls Violence: Don't use excessive force
Urge UN, Amnesty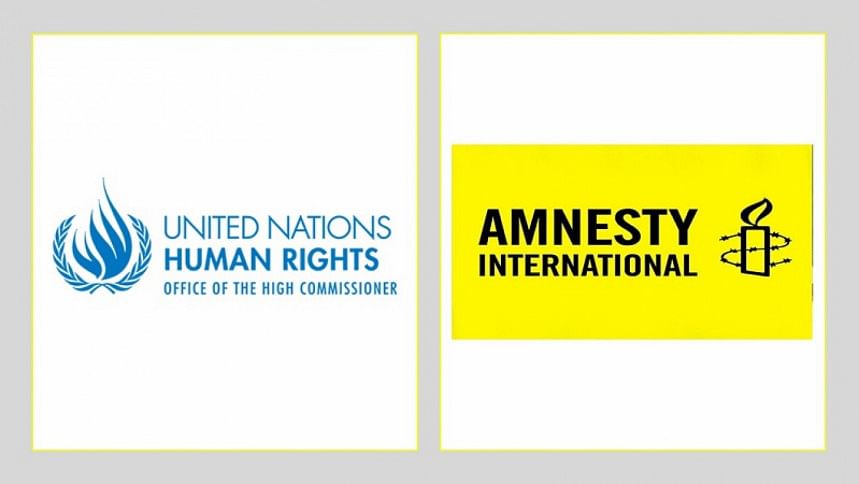 The United Nations and Amnesty International yesterday called on Bangladeshi authorities to refrain from excessive use of force amid recurring violence and mass arrests ahead of general elections.
The UN human rights office lamented the violence that has erupted at opposition rallies in recent months, with police using rubber bullets, tear gas and water cannons.
"Police, alongside men in plain clothing, have been seen using hammers, sticks, bats and iron rods, among other objects, to beat protesters," spokesman Jeremy Laurence told reporters in Geneva.
"Many opposition supporters, as well as some police, have been injured," he said, adding that "senior opposition leaders have been beaten in broad daylight, and their homes raided by people claiming to be law enforcement."
"Hundreds of opposition leaders and supporters have been arrested before and during the rallies."
Bangladesh's next general election is due before the current parliament's term expires in January.
The opposition Bangladesh Nationalist Party and dozens of smaller allies have called for protests throughout the country demanding Prime Minister Sheikh Hasina step down and the polls take place under a neutral caretaker government.
Hasina has rejected the demand, saying it is unconstitutional.
Laurence stressed that Bangladeshi authorities "must abide by their human rights obligations and allow people to exercise their rights to freedom of peaceful assembly and freedom of opinion and expression."
The UN rights office, he said, was calling on "police to ensure that force is only used when strictly necessary", insisting that any "excessive use of force must be promptly investigated, and those responsible held to account."
Meanwhile, Amnesty International yesterday urged Bangladeshi authorities to urgently end the use of excessive force against protesters, after verifying evidence of reports of violent attacks against protesters and opposition party leaders during the recent protest on July 28 and 29.
Amnesty International's researchers and Crisis Evidence Lab reviewed 56 photos and 18 videos from the protests, and the organisation also collected nine eyewitness testimonies to corroborate the findings, it said in a press statement.
According to the press release, eyewitnesses said the protests were largely peaceful prior to the police attacking them.
"The videos and images that Amnesty International has verified shed light on the human rights violations by the Bangladeshi authorities. We call on the Government of Bangladesh to guarantee strict adherence to the law by the law enforcement agencies, as well as full respect for the people's right to exercise their right to freedom of expression and peaceful assembly, in order to avoid further harm to people's physical integrity and possible escalation of this crisis," said Smriti Singh, interim Regional Director for South Asia at Amnesty International.
"Police should not use tear gas, rubber bullets on peaceful protesters. The fact that the Bangladeshi police is resorting to using tear gas inside a hospital reveals their alarming disregard for international law," said Smriti Singh.
"The government must ensure that the police respect international human rights law and follow the United Nations Code of Conduct for Law Enforcement Officials," she added.
Quoting witnesses, Amnesty said that the police barricades were manned not only by law enforcement officials but also by people in civilian clothes purportedly to be the supporters of the ruling party.
Amnesty International also verified at least seven photos and two videos that include footage of these individuals beating up protesters 'side by side' with police personnel or branding batons and sticks at protesters.
"It is just unacceptable for civilians to join in with the police as they attack protesters. … The government must ensure that all those suspected of criminal responsibility are held to account, and impartial, independent, and swift investigation is conducted against the police officers that failed to prevent such breaches of the law," said Smriti Singh.