Not at all unexpected
Experts say about Dhaka abstaining from UNGA vote on Russia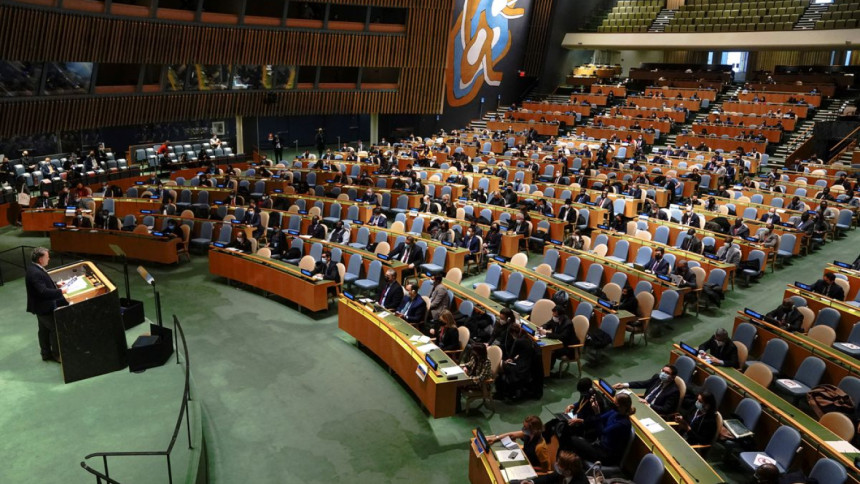 Bangladesh's abstention from voting on the UN General Assembly resolution, which reprimanded Russia for invading Ukraine, is not unexpected, said international relations analysts.
"This abstention is for the sake of our national interest," said Amena Mohsin, a professor of international relations at Dhaka University.
The US, the UK, Australia, Japan, New Zealand, Brazil, the UAE, Saudi Arabia, Afghanistan and most of the European countries supported the resolution, which demands that Russia "immediately, completely and unconditionally withdraw all of its military forces from the territory of Ukraine within its internationally recognised borders".
Bangladesh was among the 35 countries, including India, Pakistan, Sri Lanka, Laos, Vietnam and China that abstained from voting on the resolution.
"As a small country, any war or international crisis goes against Bangladesh's national interest," Foreign Minister AK Abdul Momen, who is visiting New York, told a local TV channel.
He did not say why Bangladesh abstained from voting.
It will not be right to think that Bangladesh took the position under the influence of India or China, Mohsin said. "Bangladesh can now make decisions independently."
Former diplomat M Humayun Kabir said Dhaka has so far been able to maintain its neutral policy of "friendship to all and malice to none" for the national interest.
"Abstaining from voting is nothing but a reflection of that policy," he added.
This is the biggest assault on a European country since World War II, and the European Union and G-7 countries are taking punitive actions against Russia.
"The global dynamics are evolving. So, how long Bangladesh can stick to its policy remains to be seen," Kabir said.
Bangladesh is dependent on the Western countries for international trade, said another former diplomat on condition of anonymity."We never know. We may need to change our position in the future..." he said.
Participating in the debate on Tuesday, Bangladesh's Deputy Permanent Representative to the UN in New York Monwar Hossain emphasised the need for maintaining respect for sovereignty and territorial integrity of Ukraine in line with the obligations stipulated in the UN charter.
He also called for an immediate cessation of the ongoing hostilities and military operations in the Ukrainian territory as well as restraint by all parties.
He stressed immediately resuming diplomatic efforts and dialogue to settle all disputes by peaceful means.