Momen seeks US support for Rab's capacity building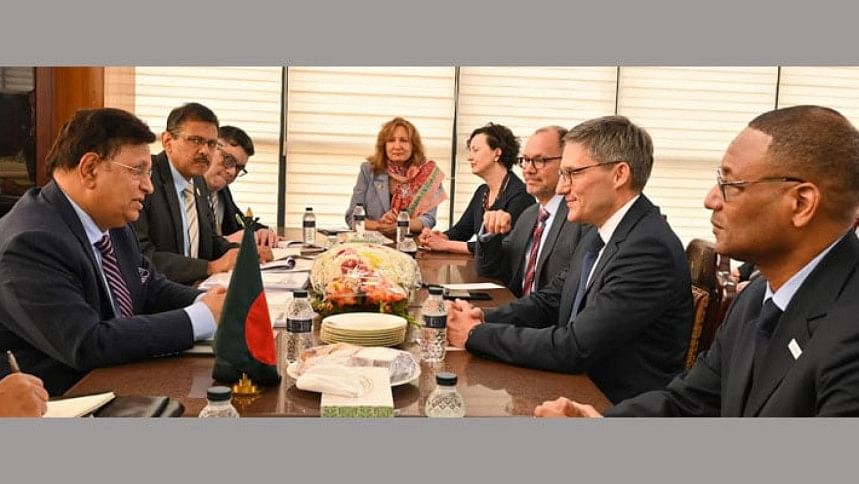 Foreign Minister AK Abdul Momen today sought US support for increasing capacity building of Rab when visiting US State Department Counselor Derek Chollet acknowledged improvement in performance of the force.
The foreign ministry issued a statement in this regard after Chollet had a meeting with Momen.
Chollet, who serves as a senior policy adviser to US Secretary of State Antony Blinken, led a seven-member delegation at the meeting.
The foreign ministry statement said the US side acknowledged Rab's improved performance but emphasised on its sustained reforms while the force is now under a sanction imposed by Washington.
Momen said Rab is a key force in law enforcement and earned people's confidence and trust over the years.
Drawing attention to Bangladesh's remarkable progress in the socio-economic sector, he suggested that the US take advantage of Bangladesh's liberal investment policy by investing in the designated special economic zones.
Chollet, who is leading a seven-member inter-agency US delegation, also called on Prime Minister Sheikh Hasina and held a breakfast meeting with Foreign Secretary Masud Bin Momen.
During the meetings, they discussed a wide range of bilateral and other issues of mutual interest, including the Rohingya situation, Ukraine crisis, trade and investment, and rights-related matters, said the statement.
Press freedom, national election, and other issues were also discussed at the meetings, it added.
Secretary (west) Ambassador Shabbir Ahmad Chowdhury and other senior officials of the foreign ministry were present at the meetings from the Bangladesh side.
US Ambassador to Bangladesh Peter Haas, Counselor for USAID Administrator Clinton White, Principal Deputy Assistant Secretary of US Department of State, South Central Asia Bureau Elizabeth Horst and Ambassador-at-Large for Global Criminal Justice Beth Van Schaack were present from the US side.