Momen in Colombo to attend 18th ministerial meeting of BIMSTEC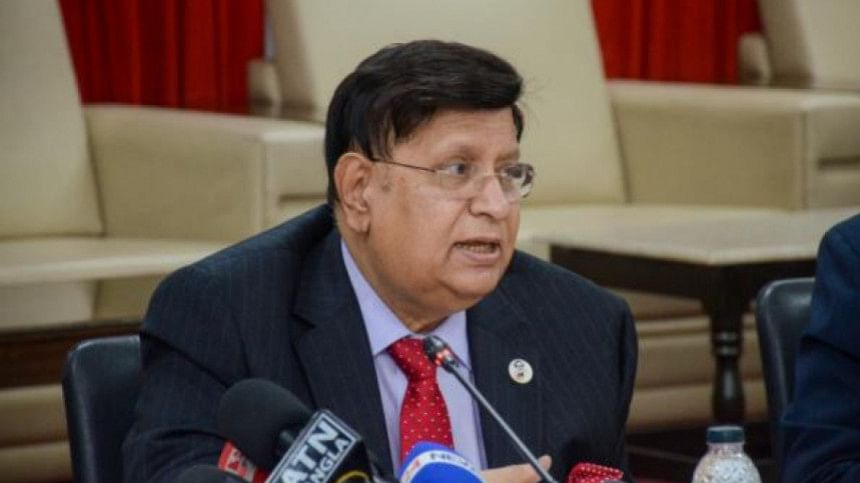 The eighteenth ministerial meeting of the Bay of Bengal Initiative for Multi-Sectoral Technical and Economic Cooperation (BIMSTEC) opens in the Sri Lankan capital tomorrow (March 29) as the members explore ways to strengthen the forum on all fronts.
Foreign Minister AK Abdul Momen reached Colombo this afternoon to lead the Bangladesh delegation at the ministerial meeting ahead of the 5th BIMSTEC Summit to be held virtually on March 30.
Sri Lanka is hosting the summit in hybrid mode with the theme "BIMSTEC-Towards a Resilient Region, Prosperous Economies and Healthy Peoples."
Sri Lankan President Gotabaya Rajapaksa will formally inaugurate the summit in which Prime Minister Sheikh Hasina will join virtually from Dhaka.
BIMSTEC consists of seven member states – Bangladesh, Bhutan, India, Myanmar, Nepal, Sri Lanka and Thailand.
Today, Foreign Secretary Masud Bin Momen led the Bangladesh delegation at the 22nd BIMSTEC Senior Officials' Meeting' held at the Bandaranaike Memorial International Conference Hall (BMICH) in Colombo.
The officials' meeting endorsed and adopted several reports of BIMSTEC meetings. The meeting finalised the agenda and report of the 18th BIMSTEC ministerial meeting.
Secretary (East) Mashfee Binte Shams, Additional Secretary (SAARC & BIMSTEC) Md. Shamsul Haque and Bangladesh High Commissioner to Sri Lanka Tareq Md Ariful Islam, among others, joined the meeting.
Sri Lankan Foreign Minister Prof G L Peiris will deliver welcome remarks after the formal opening of the ministerial meeting.
Issues related to the BIMSTEC Charter, BIMSTEC Convention on Mutual Legal Assistance in Criminal Matters, Memorandum of Understanding (MoU) on Mutual Cooperation between Diplomatic Academies/Training Institutions of BIMSTEC Member States, Memorandum of Association (MoA) on the Establishment of BIMSTEC Technology Transfer Facility (TTF) in Colombo, Sri Lanka, Rationalization and Reorganization of Sectors and Sub-sectors of BIMSTEC, BIMSTEC Master Plan for Transport Connectivity, finalisation of the draft provisional agenda of the 5th BIMSTEC Summit and draft of the fifth BIMSTEC Summit declaration will be discussed at the ministerial meeting, officials said.
After the 18th BIMSTEC ministerial meeting, Ministers of Foreign Affairs/External Affairs and BIMSTEC Secretary General Tenzin Lekphell are scheduled to meet President Rajapaksa.