Making up for learning loss in Covid: Govt should take up nationwide programme
Unicef regional director for South Asia tells Star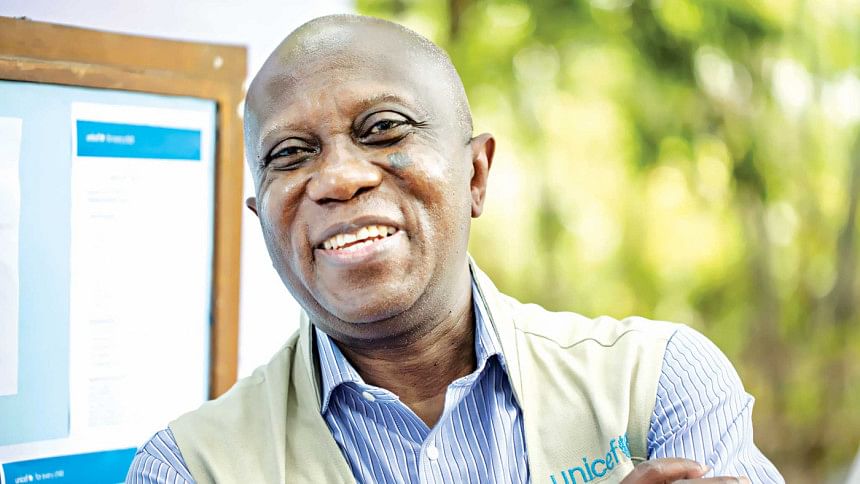 Unicef has recommended that the government prioritise a countrywide remedial programme for recovering the learning loss caused by 18 months of school closure amid the Covid pandemic.
"If we don't, I am afraid we are going to see more kids drop out as they struggle with their studies," said George Laryea-Adjei, Unicef regional director for South Asia, based in Nepal.
When children drop out, they are at greater risk of being engaged in child labour and trapped in low-paying and hazardous jobs, he said in a recent interview with The Daily Star.
"There will be economic growth, but intergenerational cycles cannot be broken… It has social implications and I am really concerned about it."
In late April, Laryea-Adjei visited Unicef programmes being implemented with the government and NGOs in Dhaka, Khulna, Cox's Bazar and Noakhali.
Amid the pandemic, schools remained closed for one and a half years, one of the longest globally, affecting children's education and mental health. There were more dropouts and child marriages, and those who did not drop out faced immense learning losses.
Students passed to the next grade without attending the classrooms, he said. "So you are going to struggle. Those who had access to extra help may catch up, but others will continue to face challenges."
"We also have to find alternative learning to attract children who have dropped out so that they are encouraged to come back to school," Laryea-Adjei said.
Asked how learning loss could be addressed, he said expanding the accelerated learning programmes was one of the ways. The curriculum can get condensed in a way  that allows children to have intensive learning and the necessary support.
"But it has to be a nationwide effort, reaching every school. Bangladesh has a population of over 170 million people and over a third of them are children. Unicef is working with the education authorities to plan and work for remedial action. We have to hurry -- this is critical."
The Unicef official also emphasised that parents demand remedial action from schools, instead of just accepting that the student who is promoted is fine.
Even before the pandemic, about 4.3 million children of school-going age were out of school and the authorities needed to ensure additional programmes for them, he said, adding that there was a need for part-time schooling for those who will not be able to come back to school, and vocational training for older children.
For education, the allocation is currently about two percent of the GDP. "Bangladesh has already committed to the global benchmarks of the SDGs and the Education 2030 Framework for Action calls for allocation of at least four to six percent of the GDP for education.
"Bangladesh has done truly remarkably well. But when you reach this level of development, if you don't invest more in human capital, you lose the opportunity to accelerate and transition to even higher levels."
About the quality of education, he said there was a need for better facilities, improved teaching methods and teachers' training. Global standards had changed and so there was need for improvement in all spheres.
"We have to invest more in teaching, making teaching more efficient, more enjoyable. Technology really helps and makes learning easier. Investment is required in teachers' support and supervision."
Bangladesh has the fastest growing economy in South Asia and is going to transition very soon to a developing country.
Asked how the country could meet the challenge of depleting foreign funds with its LDC graduation, he said, "Foreign funding is already going down. For us, we have to step up our fundraising to support our cause… Graduation does not mean that problems have disappeared overnight."
Even if the economy grows, it does not benefit all groups. It does not mean that the need for hospitals and routine immunisation is going away, he added.