Changing Global Order
Major challenges ahead: speakers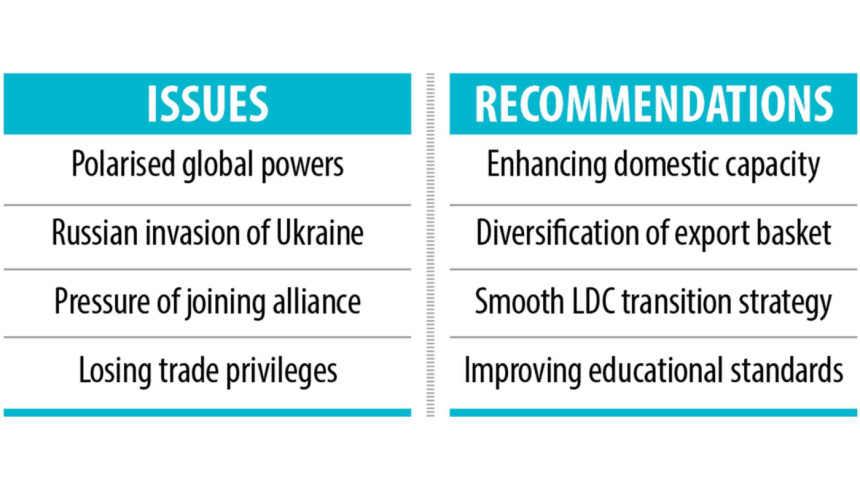 As the world order is changing with the global powers being more polarised, Bangladesh will be facing more challenges in maintaining balance and securing its national interests in the coming days.
When the US-China rivalries were already in place in the last several years, it has intensified since the Russian invasion in Ukraine. Bangladesh, a rising economic power in South Asia, is also under pressure for joining this or that alliance.
Apart from this, another major challenge for Bangladesh is that it is going to graduate from LDC status by 2026 and many of the trade privileges that the country has been enjoying will be gone.
Under these circumstances, it is important to gain its core strengths -- the soft power of peace, humanitarian diplomacy, climate diplomacy, cultural diplomacy, improve educational standards, export diversification, improving domestic market and having the finest diplomacy.
These observations came at a seminar on "Changing Global Order: Securing Bangladesh's National Interests" organised by the Bangladesh Institute of International and Strategic Studies (BIISS) at its auditorium yesterday.
Former foreign secretary Shamsher Mobin Chowdhury said enhancing Bangladesh's domestic capacity is one of the major ways to address external threats. Therefore, attracting foreign investment is a very important task, which will improve resilience of the economy.
BIISS research fellow ASM Tarek Hassan Semul stressed on diversification of export basket of the country.
UNDP country economist Dr Nazneen Ahmed said as Bangladesh graduates by 2026, it will face a number of challenges, especially in terms of trade privileges that the country has been enjoying from the EU.
Also, interest rate for borrowing money will also be higher, she said. "We will have to have a smooth transition strategy that we are already working on."
BIISS research fellow Razia Sultana suggested that population is a great asset for Bangladesh, and providing them quality education is the key.
Foreign Minister Dr AK Abdul Momen said Bangladesh believes in inclusive and sustainable development and it continuously studies the international events and actors.