Economy still very strong; we won't face situation like Sri Lanka: PM in ANI interview
India should show more broadness in trying to solve Teesta-water sharing issue, she says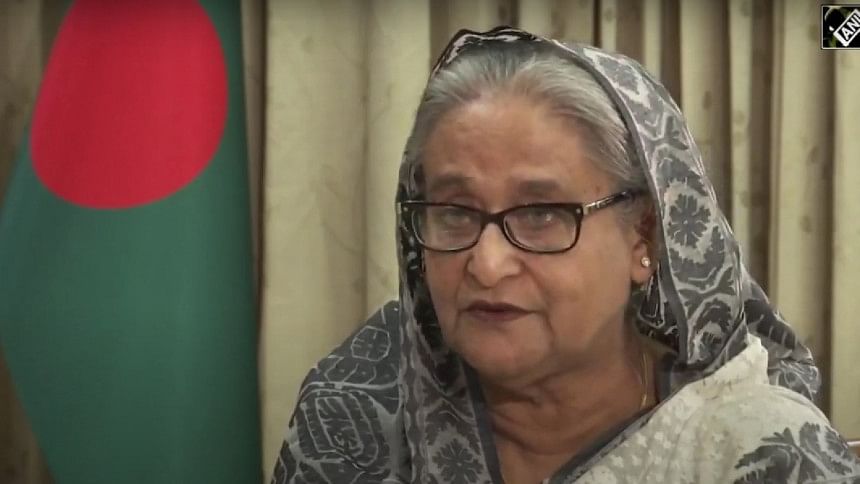 Bangladesh Prime Minister Sheikh Hasina is in conversation with ANI ahead of her visit to India where she is sharing her views and priorities about the trip.
In reply to a question regarding her priorities for the visit, the PM said she is looking to enhance trade and bilateral relations between the two nations. "India is our tested friend and we prioritise this friendship," she said.
The Bangladesh PM stressed on closer cooperation with India and said differences should be addressed through dialogue. 
Questioned about the economy in comparison to Sri Lanka, Prime Minister Sheikh Hasina said, "Our economy is still very strong. We have faced the Covid-19 pandemic and now the Ukraine-Russia war. That has its effect here. But we pay our debts on time and our debt rate is very low. In context of Sri Lanka, our economy trajectory and the development, that is (planned) very, very calculatedly," said Hasina.
She further said Bangladesh was secure on the economic front and did not take any loan unless it was sure that it would benefit from the project.
"I think the whole world is facing economic problem and so are we. But there are some people who raise this issue that Bangladesh will be Sri Lanka, this and that. But I can assure you, no, that will not happen. Because...all our development plans, what we prepare and implement, we always consider what will be the return? How people will benefit? Otherwise, I don't take any project (for) just spending money...so we will not face a similar situation (like Sri Lanka)," she said.
About the relationship between China and India, Sheikh Hasina said Bangladesh's foreign policy in line with Father of the Nation Bangabandhu Sheikh Mujibur Rahman's ideology is "Friendship to all, malice to none."
The premier further said her aim is to ensure prosperity of her people, and her nation and she "does not poke her nose in matters of other countries."
TEESTA WATER-SHARING ISSUE
On the long-standing Teesta water sharing issue Prime Minister Sheikh Hasina put the onus on India.
"It is very sad, we are at downstream, you know water is coming from India and India should show more broadness in trying to solve the issue."
"The Prime Minister [Narendra Modi] is very eager to solve the issue and I think this long-standing problem should be solved. This mainly depends on India."
ON ROHINGYA REPATRIATION
"For us, Rohingya issue is a huge burden and India is a vast country and we are consulting with international community. And our neighbouring countries should also take responsibility."
She highlighted the myriad issues plaguing the Rohingya refugee camps—from drugs to arms trafficking.
"India is a big country and should take some responsibility," she added.
ON FAMILY LEGACY IN POLITICS
The premier also spoke about her son Sajeeb Wazed Joy's position in the political landscape of Bangladesh.
She said her son is assisting her in ensuring and realising the dream of a Digital Bangladesh and as for joining politics, she said, "He is a grown man and he will decide on it…it also depends on the people of the country."
The premier also touched on various topics--from the history of her family, their collective trauma, the help provided by India during those crucial years and her return to the nation.
The premier also commended the Indian Prime Minister Narendra Modi-led initiative towards rescuing Bangladeshi students who were stranded in eastern Europe following the outbreak of the Russia-Ukraine conflict.
Hasina also appreciated the Modi government's gesture of providing Covid-19 vaccines to neighbouring countries under its Vaccine Maitri programme during the pandemic.