"I told India to help maintain stability in Bangladesh": Momen clarifies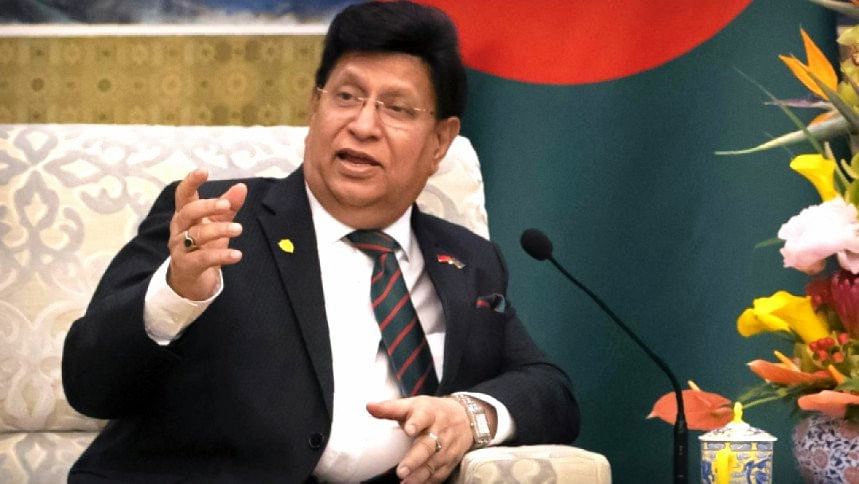 Foreign Minister AK Abdul Momen today (August 19, 2022) said he told the Indian government that Bangladesh would be happy if India helps Bangladesh in maintaining stability, noting that Prime Minister Sheikh Hasina wants stability and communal harmony in the country.
"So, stability is the most important. We want stability in this region, too. We don't want any instability. If we can do this, it will be meaningful in this Golden Chapter of our relations," he told reporters explaining what he wanted to say in Chattogram at a programme on Thursday night.
Earlier, he offered munajat and paid homage to Father of the Nation Bangabandhu Sheikh Mujibur Rahman at Mausoleum of Bangabandhu at Tungipara.
Momen said he conveyed that there are some wicked people in both countries – Bangladesh and India – who make instigative remarks and they instigate to turn minor things major.
"Both the governments have a responsibility to stop this. If we can do that, there will be communal harmony and there will be no uncertainty," he said.
Responding to a question, Momen said Bangladesh is witnessing development amid communal harmony as Hasina is there (in power).
"It's good for everyone if a non-communal social system gets established. In Bangladesh, all the citizens have equal rights," he added.
Momen said Bangladesh gets stability when PM Hasina remains there (in power) and the development journey remains uninterrupted when there is stability.
The foreign minister said he referred to what the Assam chief minister told him and he conveyed to the Indian government exactly that.
"Going to India, I said your Assam chief minister thanked Prime Minister Sheikh Hasina for her zero-tolerance policy and her announcement that Bangladesh cannot be a hub for terrorists," Momen said.
He said there are no terrorist activities in Assam and surrounding areas and they are seeing growing development with increased investment in Assam and Prime Minister Sheikh Hasina's efforts were credited.
"I conveyed to the Indian government that your chief minister said there is stability as Sheikh Hasina is there. It benefits both sides," Momen said.
Yesterday (August 18, 2022), Momen said he requested the Indian government to do whatever necessary to help Bangladesh maintain stability and harmony.
"When I went to India, I told the Indian government that Sheikh Hasina must be sustained. Bangladesh will continue to march towards development and will truly become a country free of communalism under her leadership," he said.
Speaking as the chief guest at a Janmashtami, one of the biggest festivals in the Hindu calendar, programme in Chattogram, Momen also said, "If someone takes the country to the path of instability to shake Sheikh Hasina's government, then it is a danger for everyone. We want stability."
Momen added that India does not need to make extra expenditure in its border areas as Sheikh Hasina is in power.
He said thousands of people from Bangladesh visit India every year and many Indians work in Bangladesh as there is development in Bangladesh.
For that reason, Momen said he requested the Indian government to continue supporting Sheikh Hasina as peace and stability brings benefits for the two countries.
He said there are some wicked people and fundamentalists who make noise even though the government remains silent.