German delegation lauds Bangladesh's development, achievements in RMG industry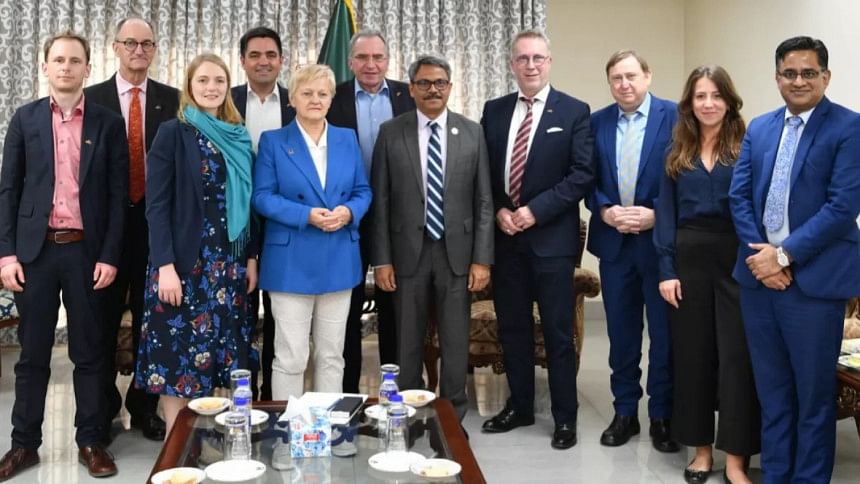 Visiting Parliamentary delegation from Germany has appreciated Bangladesh's rapid socio-economic development and outstanding achievements in occupational safety and working conditions in the RMG industry over the years.
The German side offered support on greener transition of Bangladesh economy through greener industrial transformation, particularly in RMG industry.
The visiting six-member German Parliamentary delegation led by Renate Künast, MP (Alliance 90/The Greens Party), President of German-South Asian Parliamentary Group, met State Minister for Foreign Affairs, Md. Shahriar Alam at Bangladesh Foreign Service Academy, Dhaka on Saturday.
The two sides exchanged views on a arrange of other bilateral, regional and international issues of mutual interest and concerns, including repatriation of Rohingyas to Myanmar, war in Ukraine and its fallouts on global food and energy supply chains, global cooperation on climate change, etc.
At the meeting, the State Minister recalled the valuable moral and diplomatic support that the government and the people of Germany extended during Bangladesh's War of Liberation in 1971 and post-war reconstruction process.
Terming Germany as a trusted development partner of Bangladesh, he also appreciated the development cooperation of Germany to Bangladesh in different areas, including primary and vocational education, private sector development, energy efficiency and climate change, etc.
The other members of German Parliamentary delegation included Andreas Larem, MP (Social Democratic Party), Paul Lehrieder, MP (Christian Democratic Union /Christian Social Union Party), Ria Schröder, MP (Free Democratic Party), Malte Kaufmann, MP (Alternative for Germany Party), and Dr. André Hahn, MP (The Left Party).
German delegation lauds Bangladesh's development, achievements in RMG industry
Ambassador of Germany to Bangladesh Achim Troster and Director General (West Europe & EU) of the Ministry of Foreign Affairs, Kazi Russel Pervez also joined the meeting.
Earlier, the German parliamentary delegation, accompanied by German Ambassador to Bangladesh Achim Troster, met Speaker Dr Shirin Sharmin Chaudhury.
The "fruitful meeting" covered a wide range of bilateral issues, including cooperation and climate change.
The delegation members had an insightful exchange with representatives of Bangladesh NGOs on their respective fields of activities on Friday.
An "active and unobstructed civil society" is an essential element of democracies, said the German Embassy in Dhaka.
The delegation of six German parliament members is paying an official visit to Bangladesh from February 22 to 26 to "foster the strong ties" between the two nations further.
Renate Kunast, the Chairperson of the German-South Asian Parliamentary Group and a former German Minister, is leading the delegation.
Ambassador Troster hosted some of the eminent pillars of their bilateral cooperation in his residence to welcome the six-party delegation of the Federal Parliament to Dhaka.
During the visit, the delegation met with representatives of the legislative and executive organs of Bangladesh as well as a variety of members of civil society and business circles.They discussed with their Bangladeshi counterparts various issues of mutual concern, including the deepening of the 50-year-long bilateral relations, politics, climate change, human rights, trade, migration, development cooperation and women empowerment.