Fair polls not possible amid violance
Says Peter Haas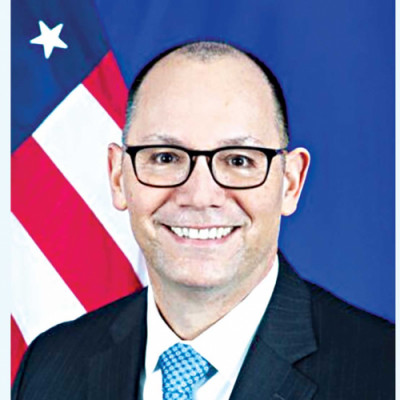 US Ambassador Peter Haas yesterday said free and fair elections could not happen amid political violent clashes like the ones that took place recently over political rallies and demonstrations in Bangladesh.
"The recent violent clashes in political rallies and demonstrations here in Bangladesh remind of that fact: Free and fair elections simply cannot not take place in an environment of political violence," Haas added.
It is so important for everyone -- demonstrators, political parties, law enforcement agencies, the government -- to respect the rule of law and to refrain from violence, harassment and intimidation.
"I want to make one thing very clear here: the United States does not support any particular political party," Haas told a meeting of the American Chamber of Commerce in Bangladesh at The Westin Dhaka.
"But we do want free and fair elections conducted according to international standards so that people of Bangladesh can freely choose their own government."
To ensure free and fair elections, the election commission, government, media, law enforcement agencies, civil society, political parties, and everyone has an important role to play, he said.
If any one of them fails to play their responsibility, free and fair election is essentially impossible, Haas said.
The US has five goals here, including keeping a peaceful and stable Bangladesh, promoting trade and investment, and supporting Bangladesh's efforts to host the Rohingya refugees until their repatriation to Myanmar.
"I really believe these five goals are mutually reinforcing, they are integrated and holistic."
The promotion of democracy is particularly important right now as a parliamentary election is near.
Bangladesh is committed to democracy, transparency, pluralism, good governance and respectful human rights, he added.
The more Bangladesh is stable and secured, the more it is resilient against the shock of climate change; the more democratic it is, the better it is able to deal with the safe return of Rohingyas, he said.
"We are committed to working together to ensure that the Indo-Pacific region remains free, open, peaceful, prosperous and secured, as you know peace and security are fundamental aspects to prosperity.
"Our military is regularly working with the Bangladeshi military to strengthen the Bangladeshi military's readiness to humanitarian disasters and to reinforce partnership between our military forces."
Earlier this month, Bangladesh along with the US, hosted the 46th annual Indo-Pacific Military Management Seminar, the largest land force conference in the entire region.
This was an opportunity for senior military officers from all the countries of the region to exchange their views and ideas.
The US has recently observed the fifth anniversary of the Rohingya genocide, a crime against humanity, he said.
As a host of the refugees, Bangladesh has also been facing financial and other burdens. Recently, the US has given $170.0 million additional support for incredible hospitality to the refugees, he said.