Covid management: Japan praises Bangladesh's achievement
More vaccines in November, Rohingya repatriation support assured, says ambassador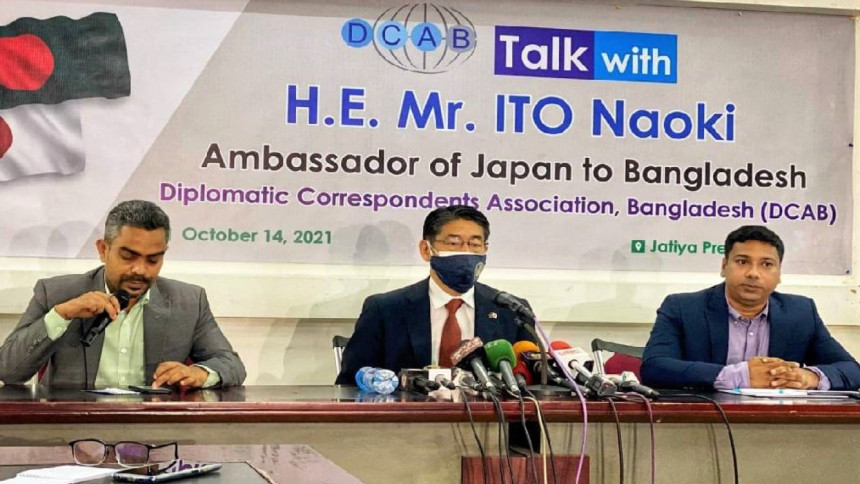 Japanese Ambassador to Bangladesh, Ito Naoki, has highly appreciated Bangladesh's achievement in Covid-19 management under Prime Minister Sheikh Hasina's leadership, terming it a "great achievement".
The Japanese ambassador said this while addressing the "DCAB Talk" at the Jatiya Press Club today.
He said Japan will send more vaccines to Bangladesh through COVAX in November. Japan has already sent 30 lakh doses of the Oxford-AstraZeneca vaccine to Bangladesh in July and August.
Ito Naoki also said that the international community's pressure should be continued on Myanmar for the Rohingyas' repatriation to their motherland.
"Repatriation is very important. Japan will continue to raise the issue of repatriation with Myanmar. The international community needs to put pressure on Myanmar," he said.
The ambassador said that a congenial environment in Rakhine is needed for the Rohingya repatriation.
He later said that Japan will send various items to Bangladesh to fight against terrorism.
The ambassador said Japan was cooperating with Bangladesh in various ways to curb terrorism after the Holey Artisan Café attack.
He also said Japan is sending patrol ships as gifts to the Coast Guard in November.