Bangladesh has learnt a lot from Sri Lanka's woes
Says Lankan foreign minister in an exclusive interview with The Daily Star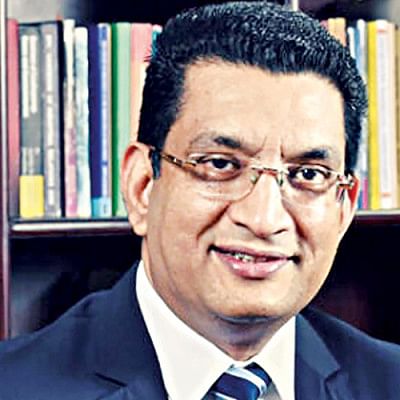 Sri Lanka is generally known for its quality education, healthcare, natural beauty and even migration policies and practices. But in recent times, the island nation has made the headlines for all the wrong reasons.
During his visit to Dhaka on November 23, Sri Lankan Foreign Minister Ali Sabri shared his views on the factors behind the financial crisis and if Bangladesh can learn anything from it in an exclusive interview with The Daily Star's Porimol Palma.
TDS: What were the fundamental weaknesses that led to this crisis?
Sabri: There are three reasons: bad fiscal management, bad luck and bad fiscal policies. The 2018 Easter Sunday attack really hit our tourism industry and shook our confidence. Then came the Covid-19 and Russia-Ukraine crisis. We were too dependent on tourism, which is seasonal and very risky. Some of the investments did not generate enough revenue. Then, we have an oversized public service with 1.5 million Sri Lankans. Some of our state-owned enterprises are actually bleeding. Until recently, we did not have a mechanism to price fuel on costing -- we subsidised it. When you subsidise fuel, electricity and water, it has a cost. That is exactly what we are paying now.
Besides these, after the 2019 elections, we reduced taxes. Our tax revenue, which was 14 percent of GDP, came down to 8.3 percent. No country can survive with this level of tax revenue unless you have a huge export market or natural resources like the Middle East. If you look at the UK, their tax revenue is 33 percent of GDP. So, that was a mistake on our part. Then, overnight, without a comprehensive plan, we went for organic fertiliser. That made a huge impact on our agriculture sector, which employs 33 percent of our population. Also, we went to the IMF for an emergency loan quite late.
TDS: There are some expensive projects, including China-supported Hambantota Port. Aren't those mega projects responsible?
Sabri: Not everything. Some of the things could have been put in for more productive purposes. But, if you look at our highways, they are generating a lot of money. It has made Sri Lanka competitive. However, we were too complacent post-LTTE conflict.
TDS: What can Bangladesh learn from the Sri Lankan experience?
Sabri: Bangladesh has already learnt a lot. You went to the IMF for a loan long before. Now it is easy for Bangladesh to negotiate as its loans are not yet unsustainable. For us, it has become a very cumbersome process because we had to get debt assurances from various of our creditors. In our case, there were popular decisions that did not sustain over the long term.
TDS: What is the economic situation in Sri Lanka now?
Sabri: If you look six months back, we had six to eight hours of power cuts. That has now come down to one to two hours. We had three to four days of fuel queues, which have been eliminated by introducing a QR code system. People are no more on the streets for cooking oil. Tourists started to come and so many ships and airlines are lining up to come to Sri Lanka. Investors have also started to come. But, we have a long way to go.
TDS: How do you describe the Bangladesh-Sri Lanka relationship? And, the prospects of cooperation?
Sabri: Bangladesh is a close friend of Sri Lanka for a long time, cooperating in socioeconomic areas. We have commonalities in our foreign policies: friendship to all and malice to none and members of the Non-Aligned Movement. Sixty percent of your ships go through our port. There is a lot of potential in terms of tourism, investment, and maritime and air connectivity. Sri Lankan firms are the third biggest investor here with close to $3 billion worth of investment. Bangladesh proposed starting a cruise ship between Chittagong to Male and Colombo, which has a lot of potentials. Two private airlines will start flights. All these will hugely improve our connectivity.
TDS: The Indian Ocean is becoming a region of great power competition. How can the two countries work together for maritime cooperation?
Sabri: While we understand the concerns of neighbours and competitors, we think small and medium economies like Bangladesh and Sri Lanka must work together and come out with a stronger policy for freedom of navigation in the Indian Ocean so that the countries are not bullied or sidelined or forced to take sides.
TDS: But, regional organisations like Saarc and BIMSTEC are not effectively working.
Sabri: Yes. Look at the European Union, North America and East Asia -- all developed as regions. South Asia has failed to reap the benefits. Within South Asia, we are not working as a team. When you work as a team, you need to have trust and work on similarities rather than focusing on differences. Unfortunately, some of the big powers in the region are not seeing eye to eye and that has affected all of us. I hope India and Pakistan will sit together and restart Saarc in a pragmatic manner. Otherwise, we will be forced to take other options that are available outside our region. That's not good for all of us.