Chinese foreign minister likely to visit Dhaka next month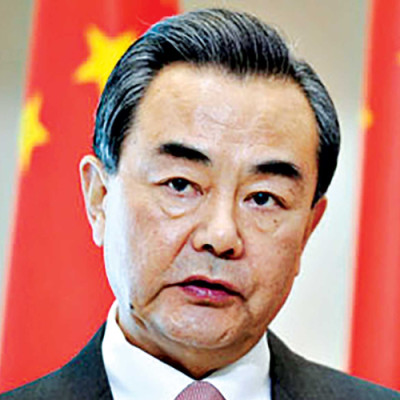 Chinese Foreign Minister Wang Yi is expected to visit Dhaka early next month as the country wants to strengthen the strategic partnership with Bangladesh.
The Chinese ambassador to Bangladesh, Li Jiming, discussed Wang Yi's visit with Bangladesh Foreign Minister AK Abdul Momen during a meeting on July 24.
"Yes, the Chinese foreign minister wants to visit Dhaka. But as I will be on a pre-scheduled visit to New York and Cambodia, I have requested them [China] to change the date of his visit," Momen told The Daily Star at the foreign ministry yesterday.
The minister will be visiting New York from July 30 to August 3 to attend an event on non-proliferation of nuclear weapons and then Cambodia to attend the ASEAN Regional Forum meeting on August 5-6.He is expected to return home on August 6 evening.
Momen said the Chinese foreign minister is likely to sign a few memorandums of understanding (MoUs). He, however, did not elaborate on those.
Officials said the Chinese foreign ministry proposed August 5-6 for Wang Yi's visit. As Momen will be away from home, Dhaka proposed fixing August 7-8 for the Chinese minister's tour.
Wang Yi will be visiting Bangladesh as part of his regional tour to a few ASEAN countries, including Cambodia and Mongolia.
A foreign ministry official said Bangladesh and China have a framework of Strategic Partnership of Cooperation and the Chinese minister's visit could help strengthen it.
A number of pending issues between the two countries are likely to be addressed during the Chinese minister's tour of Bangladesh. Those include renewal of some MoUs regarding disaster preparedness, cultural cooperation and handover of the 8th Bangladesh-China Friendship Bridge over the Kocha river in Pirojpur to the Bangladesh authorities. The 2.96-km bridge has been constructed with majority funds from Chinese grant.
The Chinese minister's visit comes at a time when the global geopolitics is changing with the rising rivalries between the US-led Western bloc and China. The US wants Bangladesh to join the Indo-Pacific Economic Framework, but China asked the regional countries, including Bangladesh, to reject the "Cold War mentality and bloc politics" in reference to the allies that the US is trying to create.