Belt, Road Initiative consistent with Sonar Bangla dream
Says Chinese ambassador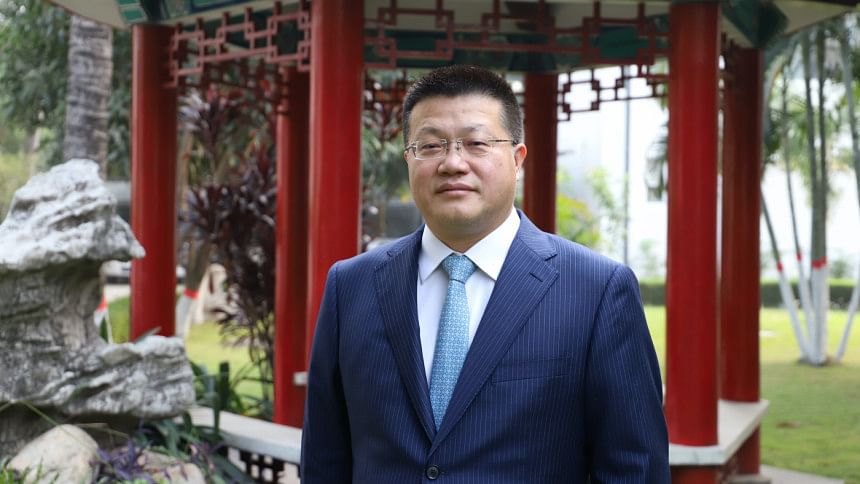 China's Belt and Road Initiative seeks no hegemony, no interference in other countries' internal affairs, and has no elements of expansion and plunder, said Chinese Ambassador to Bangladesh Yao Wen.
"It can be said that on the journey of Bangladesh's modernisation, the Belt and Road Initiative is most consistent with the Vision 2041 and Sonar Bangla dream, and is most suitable for Bangladesh's reality," he said.
The Chinese envoy was addressing a report-launching event at a city hotel yesterday, marking the 10th anniversary of Belt and Road Initiative (BRI).
Bangladesh is the first South Asian country to have joined the BRI, a China-led global initiative to connect Asia, Europe and Africa. It was launched in 2013.
Yao Wen said the core spirit of the ancient Silk Road is peace and cooperation, openness and inclusiveness, learning from each other and mutual benefit. This spirit is a vivid image of China's fine traditional culture, and it is also the core essence of today's Belt and Road Initiative.
Over the last decade, the BRI has attracted the participation of more than three-quarters of countries and 32 international organisations worldwide, generated investments of about $1 trillion, formed more than 3,000 cooperation projects, and lifted about 40 million people out of poverty, the ambassador said.
He said China has pledged $40 billion for Bangladesh's development under BRI.
Yao Wen said BRI can help increase Bangladesh's real GDP by at least 2.1 percent and decrease extreme poverty by 1.3 percent.
The BRI also will generate additional 2.5-5.1 percent employment, he added.
Education Minister Dipu Moni and Prof Rashed Al Titumir of Dhaka University's development studies department also spoke at the programme, among others.