Bangladesh will appoint lobbyist wherever necessary: Foreign Minister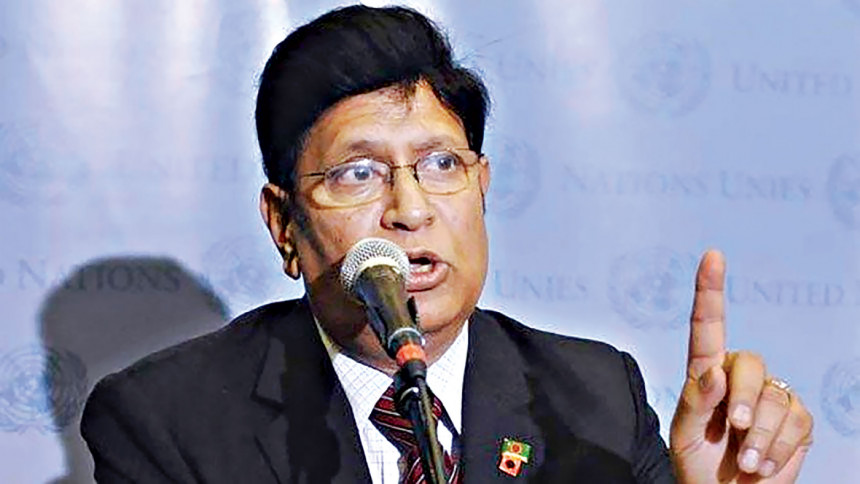 Bangladesh will appoint lobbyists for the interest of the country wherever necessary, said Foreign Minister AK Abdul Momen today.
"It is an American practice. We had appointed lobbyists in 2013-14. They work. Institutionally, we will do appoint lobbyists when it is necessary, he said at a conference at the Bangladesh Institute of Law and International Affairs (BILIA) Auditorium in the capital.
The international conference on "Law & Legal Education during and post-pandemic" was jointly organised by BILIA and the Asian Association of Law Professors.
"Lobbying (Tadbeer) is also needed at home while working. We will see how we can work out the legal way," said the minister.
"Everybody has the right to engage," he said when reporters referred to the appointment of lobbyists both by the Awami League government and the BNP in the US.
The issue of appointing lobbyists came up after the US sanctioned Rapid Action Battalion and seven of its current and former top officials in relation to human rights violations, including extrajudicial killings and enforced disappearances.
The Parliamentary Standing Committee on Foreign Ministry recommended appointing lobbyists in the USA, especially to engage the US Congress.
Asked on what the government was doing in response to US sanctions on Rab, Momen said sometimes there are some challenges that come up and the government addresses those.
"Now some challenges are there. You see, Americans are mature. Though sanctions on Rab were imposed, the US State Department also recognised that Rab in last few years reduced terrorism".
The foreign minister said the US will surely consider these issues because they also have objectives of tackling terrorism, drug and human trafficking, and Rab in Bangladesh is tackling such challenges successfully.
"I think they (US) will realise it and the situation will change," added Momen.
He said Bangladesh is a country of rule of law, and that this country was created through a struggle for democracy. All democracies have gaps and improving those is a continuous process.
"We are maturing. Even, the US also faces troubles in democracy, though they are mature," Momen also said.
The foreign minister said, "Covid-19 pandemic has exposed new challenges when various restrictions are being imposed and that are violating traditional human rights. For example, there are restrictions on going to the restaurants".
BILIA Chairman Barrister M Amir-Ul Islam, former ambassador Muhamad Zamir, Dhaka University Professor Dr Md Rahmat Ullah, BILIA Director Prof Dr Mizanur Rahman, among others, spoke at the inaugural session of the conference.