Bangladesh, EU agree to further deepen bilateral partnership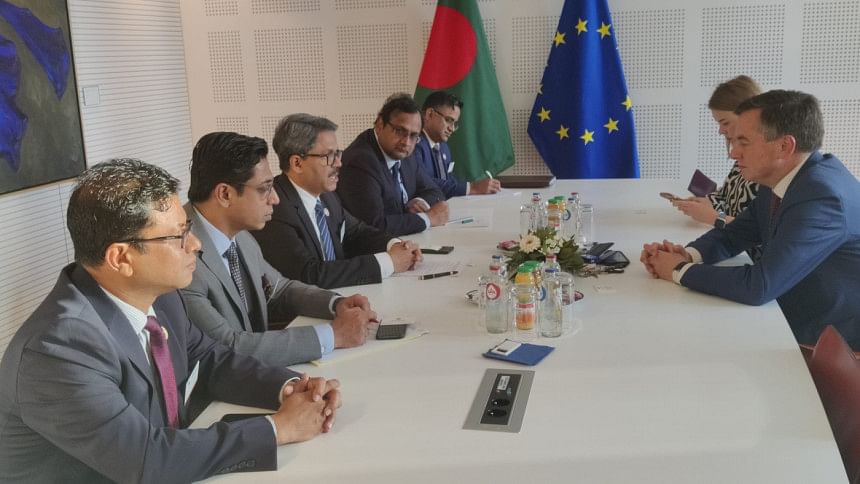 Bangladesh and the European Union (EU) have agreed to further deepen their partnership on the occasion of the 50th anniversary of bilateral relations.
This was revealed during the meetings of State Minister for Foreign Affairs Md Shahriar Alam with the EU dignitaries in Brussels.
Alam held a meeting with Commissioner for International Partnerships Jutta Urpilainen, Commissioner for Home Affairs Ylva Johansson, Commissioner for Crisis Management Janez Lenarcic, European Parliament's Chair of the Committee on International Trade Bernd Lange, Chair of the Committee on Foreign Affairs David McAllister, and EU Special Representative for Human Rights Eamon Gilmore on May 2 and 3.
During the meetings, the EU commended Bangladesh on its outstanding development journey and hailed the country as a success story, a foreign ministry press release said today.
Bangladesh expressed appreciation for the EU's political and humanitarian support for the Rohingyas being temporarily sheltered by Bangladesh and sought the EU's support for their early repatriation to Myanmar.
The two sides also shared their views on different regional and international issues of mutual interest and concerns, including climate change, Russia-Ukraine conflict, Indo-Pacific, combating human trafficking, and migrant smuggling.
The EU was apprised of steps being taken by the government to prepare for graduation and the much bigger role of the EU envisaged in the future.
Bangladesh expressed hope for an early launching of the Partnership Cooperation Agreement which would be an important institutional and legal mechanism to concretise the elevated relations.
Bangladesh Ambassador to Belgium and the EU along with Nahim Razzaque and officials of the foreign ministry and the embassy were present during the meetings.
Alam is on a four-day visit to Brussels and is covering a packed agenda including meetings with commissioners of the European Commission, members of the European Parliament, and international media, the release said.