50 yrs of Bangladesh-India Relations: Axe irritants, engage deeply
Experts say on partnership between neighbours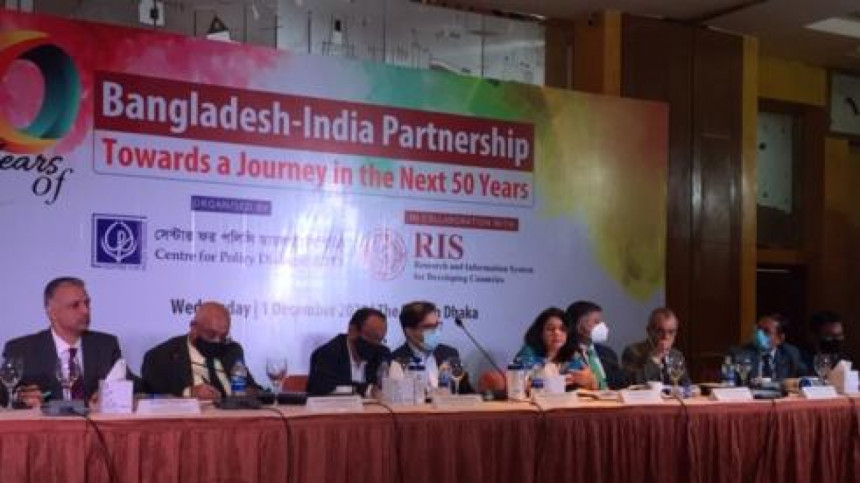 Mutual respect, trust and equality should be the pillars of bilateral relationship between Bangladesh and India, foreign policy analysts and academics said at a discussion yesterday. 
They said the two countries need to remove all the irritants and engage deeply to flourish and tackle the challenges emerging out of global geopolitics and climate change.
The observations came at a discussion, titled "50 years of Bangladesh-India Partnership: towards a journey in next 50 years", jointly organised by the Centre for Policy Dialogue (CPD) and Research and Information System for Developing Countries (RIS), India at a city hotel.
Analysts said despite a lot of challenges, Bangladesh and India have made some great achievements, with the major three being implementation of the Ganges Treaty, the Land Boundary Agreement and tackling cross-boundary terrorism. The two neighbours also progressed much in terms of connectivity and trade.
"At the same time, we also have problems," said CPD Distinguished Fellow Dr Debapriya Bhattacharya.
He said for trust, respect and equality, religious or ethnic minorities should be treated equally and that one should agree to live with a pluralistic view in one's own country.
"Equality means your agenda and my agenda are equally important. If you think my agenda is more important than the other, then you are not having equal treatment within a sovereign territory. I hope the leadership [of both the countries] will give content to these concepts."
He said there are some outstanding agenda including on water issues, border management and non-tariff barriers in trade that need to be addressed at the earliest.
Debapriya also said that geopolitics is evolving around the Indian Ocean, and that bilateral relations can often become hostage to extra-regional politics. "So, keep in mind that you have to develop a bilateral relationship within that."
Former foreign secretary Md Shahidul Haque said Indo-Bangla relationship will grow under the framework of a larger Indo-Pacific global politics.
"It will also depend on who is in the leadership. New issues like technologies will also define a lot of it," he said.
Haque said the Indo-Bangla relationship is not only economic but also political. Therefore, political understanding between the two countries is very important.
State Minister for Foreign Affairs Shahriar Alam said it is necessary that Bangladesh receives its fair share of the Teesta water based on the draft agreement agreed upon by both the governments in 2011.
He said the deals on the Teesta and other common rivers should be signed at the earliest.
CPD Chairman Prof Rehman Sobhan said the Indo-Bangla relations flourished pretty well, but there are a lot more opportunities untapped. For example, Indian investments to Bangladesh and connectivity and trade with the Northeast Indian states are still works in progress.
Former Indian High Commissioner to Bangladesh Veena Sikri said some critical issues, including water resources management, need to be solved to build trust in the bilateral relationship.
She said it should be asked why Indian investors are reluctant to invest in Bangladesh.
Indian High Commissioner to Bangladesh Vikram Doraiswami said comprehensive border management and addressing the factors that lead to illegal activities by the people in the borders need to be addressed for stopping border killing, which is very unexpected.
He stressed on reducing hassles at the land borders, strengthening river and rail routes for augmenting trade.
Water expert Dr Ainun Nishat said the water issue should be looked at from management perspective, instead of water sharing. How to go for basin-wide water management, checking drought and saving rivers should be the approach.
Dr Sachin Chaturvedi, director general of RIS; Prof SK Mohanty and Dr Prabir De of RIS; CPD Distinguished Fellow Dr Mustafizur Rahman; Dr Uttam Kumar Sinha, research fellow at Manohar Parrikar Institute for Defence Studies and Analyses, India; Dr Sreeradha Datta, senior fellow at the Vivekananda International Foundation, India; Kazi Nabil Ahmed MP of Bangladesh; Muchkund Dubey, former Indian High Commissioner to Bangladesh, also spoke.
CPD Executive Director Dr Fahmida Khatun moderated the discussion.