Padma Bridge: Mashiur recalls "corruption scandal", breaks down in tears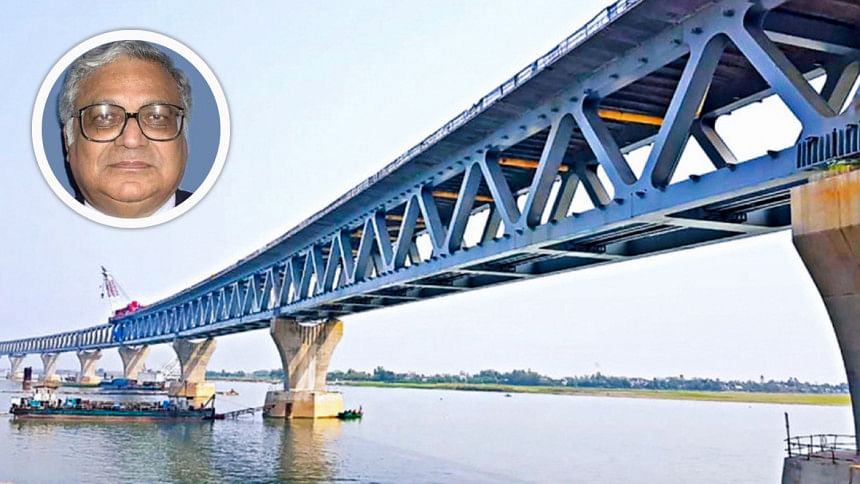 Prime Minister's Economic Affairs Adviser Mashiur Rahman broke down in tears while recalling the alleged 2012 Padma Bridge corruption scandal.
Speaking on Friday (May 27, 2022) at "Rajneetir Satkahon", a weekly event of the Awami League (AL), he reflected on how he had dealt with those turbulent days.
Condemning the "dual role" of global lenders for bringing corruption charges against him and offering him a job at those institutions at the same time, Mashiur said, "The offer they came up with was irrelevant. They would reward someone they brought graft allegations against. The thought behind this was that I took a tough stance against this conspiracy."
"The moment the World Bank made that statement, some senior people, influentials, some of my friends (who are also involved with the AL), and well-wishers recommended that I leave my responsibility and the country as well. But I said that I would lose my ground to stand on if I left the country," Mashiur said.
AL Presidium Member Jahangir Kabir Nanak also spoke at the programme, conducted by Md Aminul Islam, the party's deputy secretary of publicity.
In 2012, the World Bank backtracked on its $1.2 billion money-lending deal on Padma Bridge construction on the ground of corruption allegations, a claim later rejected by a Canadian court.
Mashiur, among others, had stepped down, complying with instructions from Prime Minister Sheikh Hasina.
Uncertainty loomed large on the Padma Bridge project, which was finally accomplished through self-funding.