Remove restaurants, shops from Hatirjheel in 60 days: HC
Ban water taxi services, it recommends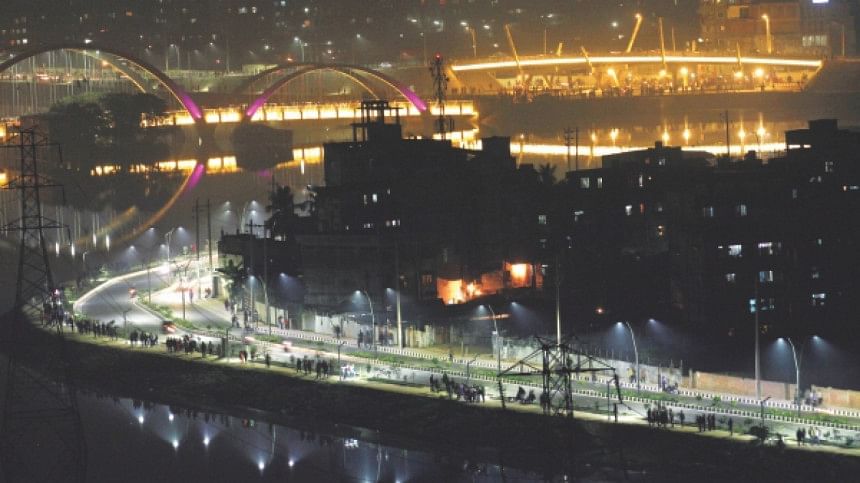 Declaring Hatirjheel-Begunbari project in Dhaka as a "Public Trust Property", the High Court in a full text verdict has issued four directives and nine recommendations in order to protect its original character, beauty and water.
"Water of Hatirjheel and its aesthetic beauty are invaluable assets which cannot be damaged in any manner," the HC bench of Justice Md Ashraful Kamal and Justice Razik-Al-Jalil observed in the verdict which was released recently.
In the 55-page full text verdict, the court directed the authorities concerned of the government to evict all business structures, including restaurants and shops, within the project in 60 days.
Earlier on June 30 last year, the bench had delivered a short verdict on this issue, following a writ petition filed by lawyer Ripan Barai on behalf of Human Rights and Peace for Bangladesh (HRPB) on September 9, 2018. The petition challenged the legality of the construction work in Hatirjheel-Begunbari project.
In the full text verdict, the HC declared allocation and construction of all the business structures including restaurants and shops within the project "illegal", as those were constructed beyond the layout plan.
The HC judges have advised for formation of a "Hatirjheel Lake Protection, Development and Management Authority" directly under the Prime Minister's Office.
They recommended appointing the Engineering Department of Bangladesh University of Engineering and Technology (BUET) and 24th Engineering Construction Brigade of Bangladesh Army as permanent consultant of Hatirjheel-Begunbari project.
Other recommendations include setting international standard toilets under the ground for the use of the public, arranging drinking water without any cost at specific distances for all, construction of walkways and separate lanes for bicycles and physically challenged people, banning all machine-driven vessels particularly water taxi services which are harmful for water, making the lake a sanctuary for the fish, naming the project after famed scientist Sir Jagadish Chandra Bose and allocating money from revenue budget for protection, development and operation of the whole protect.        
During hearing on the petition, petitioner's counsel Manzill Murshid told the HC that some structures including restaurants have been built in the project area illegally, which are obstructing free movement of people in the area and have damaged the beauty of the project.
Lawyer Imam Hossain appeared for Rajdhani Unnayan Kartripakkha during hearing of the petition.