Bangabandhu Sheikh Mujib Railway Bridge: The next milestone in connectivity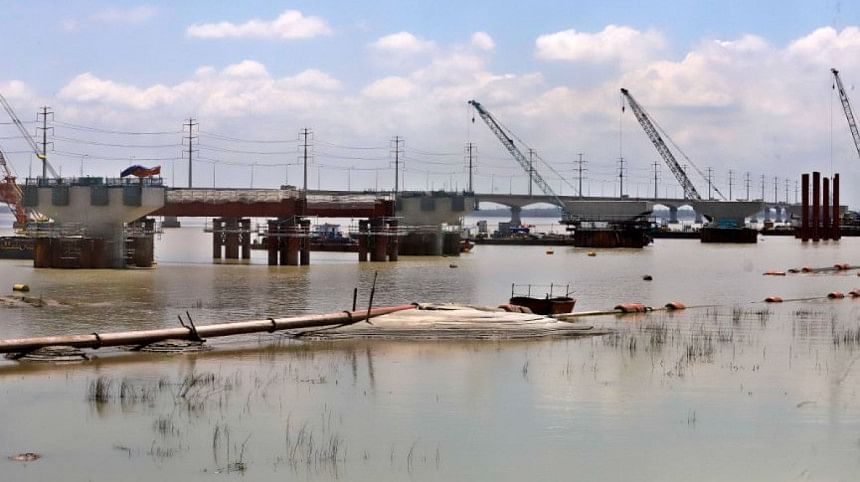 As the country celebrates the milestone of Padma Bridge opening, the longest bridge in Bangladesh, another historic achievement in the form of the Bangabandhu Sheikh Mujib Railway Bridge over Jamuna river – the biggest Bangladesh Railway project – is in the offing.
The 4.8km long rail bridge is being constructed on 50 pillars.
Forty-two percent work has already been completed and half the work is expected to be completed by the end of this year, Abul Fattah Md Masudur Rahman, project director (PD) of Bangabandhu Sheikh Mujib Railway Bridge construction project, told the Daily Star recently.
"Six out of 50 piers have already been completed while the basement work of 34 piers is also completed and construction is underway on those. Piling work of the remaining 10 piers will start soon and construction of piers is expected to be done within this year," he said.
Prime Minister Sheikh Hasina launched the foundation stone of the country's biggest railway bridge on November, 29, 2020 but the progress was slow initially due to the Covid-19 situation. The construction work has picked up pace now, raising hopes that it will be completed within the scheduled time of August, 2024.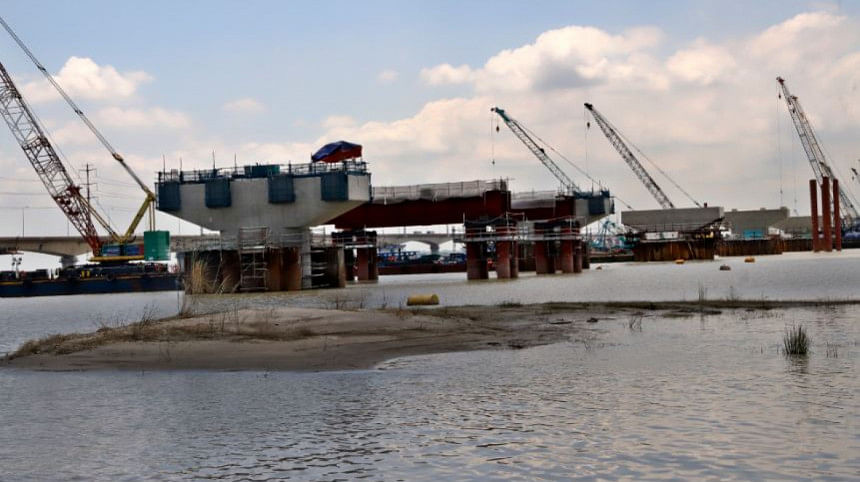 "Over five to six thousand workers are working to finish the work within the time frame," the PD said.
Construction of a 7.6km long double-line railway approach embankment, erection of 30.73km dual-gauge railway track, construction of 16 railway approach viaducts, minor bridges and culverts, renovation and remodelling of Bangabandhu Bridge East and Bangabandhu Bridge West stations and yards are included in the project at a cost of Tk 1678.1 crore, of which JICA is providing Tk 1214.9 crore.
The dual-gauge, double track rail bridge is being constructed 300 metres upstream of the Bangabandhu Bridge, connecting Sirajganj and Tangail districts.
"Now, only 38 trains have been running between railway's east zone and west zone through the Bangabandhu multipurpose bridge daily, while at least 88 to 90 trains can easily move through the Bangabandhu Sheikh Mujib rail bridge every day," the PD said.
Railway journeys will be easier and comfortable after the country's biggest rail bridge over the Jamuna is completed, the PD added.
International goods carried from northern and southern regions to Dhaka and Chattogram will be easier through this bridge, railway sources said.