Widen, not narrow, the path to justice
20 rights orgs concerned over judge's observation, direction in Raintree hotel rape case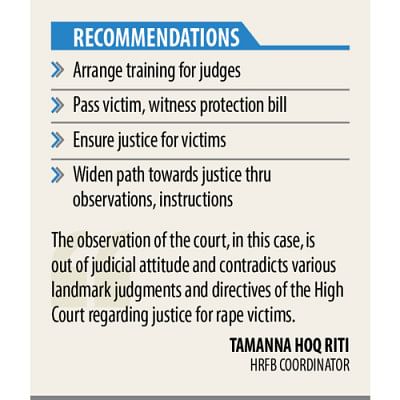 Human Rights Forum Bangladesh (HRFB), a forum of 20 human rights organisations, yesterday expressed grave concern over the recent observation and direction made by judge Mosammat Kamrunnahar during the verdict of the Raintree hotel rape case.
Kamrunnahar, judge of the case, instructed law enforcers that no rape cases should be filed if 72 hours have passed since the incident.
Speakers at a virtual press conference also suggested that it is imperative to arrange training for the judges so that they are better aware of laws and the constitution, and of their powers and jurisdiction.
According to the forum, actions should be taken by the High Court to ensure accountability of the judge concerned, as such a stance has created risk of distrust about the justice system among the public.
The forum members also said the key responsibility of the court is to widen the path towards justice for victims through various observations and instructions, rather than narrow it.
Such directive from the court is contrary to existing legal provisions and will create more obstacles in ensuring justice for victims, they added.
During her keynote presentation, Tamanna Hoq Riti, coordinator of the forum, said, "The accused can also be convicted if the allegations against the accused are proved by oral testimony of the victim and other circumstantial evidence, other than medical examination."
Besides, a 2016 HC direction also mentioned that without any specific reason, the officers concerned of the police stations cannot refuse to accept the complaint of rape survivors and according to article 111 of the constitution, it is mandatory for lower courts to obey the HC directives.
"The observation of the court, in this case, is out of judicial attitude and contradicts various landmark judgments and directives of the High Court regarding justice for rape victims," she added.
Supreme court lawyer and adviser of Bangladesh Legal Aid and Services Trust (BLAST) Md Tajul Islam said BLAST has been working as a member of the rape law reform coalition for a long time and demanding to repeal the evidence act, which has been giving indemnity to rapists.
He also stressed the need for a comprehensive law on the protection of victims and witnesses.
Zakir Hossain, chief executive, Nagorik Uddyog, welcomed the immediate reaction from the law minister regarding actions that should be taken against the judge and highlighted the importance of training for judges.
"Forget about the legal aspects, why do women have to prove their characters in courts even after 50 years of independence? Why are the characters of perpetrators not important here?" asked Shaheen Anam, executive director of Manusher Jonno Foundation and moderator of the session.
Golam Monowar Kamal, executive director, Ain o Salish Kendra (ASK), and convener, HRFB; Hameeda Hossain, expert member of HRFB; Shale Ahmed, executive director, Bandhu Social Welfare Society, and Shamsul Huda, executive director, ALRD, spoke at the event.