When fear is all they feel
Zealots unleash hell on Pirganj Hindus, vandalise 70 houses, burn down 25 of them, loot valuables
They were already cringing in horror over what had happened at different places across the country over the last few days.
Their fears became a reality when tensions started simmering on Sunday afternoon over a Facebook post allegedly demeaning Islam.
By the time of Maghrib prayers, the post went viral and a mob formed. Then came the provocative announcements over loudspeakers from at least three mosques. And then, true to the pattern seen over the last few days, the mayhem descended.
In a matter of hours on Sunday night, Boro Karimpur, a fishing village by the Akhira in Pirganj, Rangpur, was left in ruins.
Shell-shocked Hindu fishermen yesterday said their neighbourhood was attacked from all sides around 8:30pm.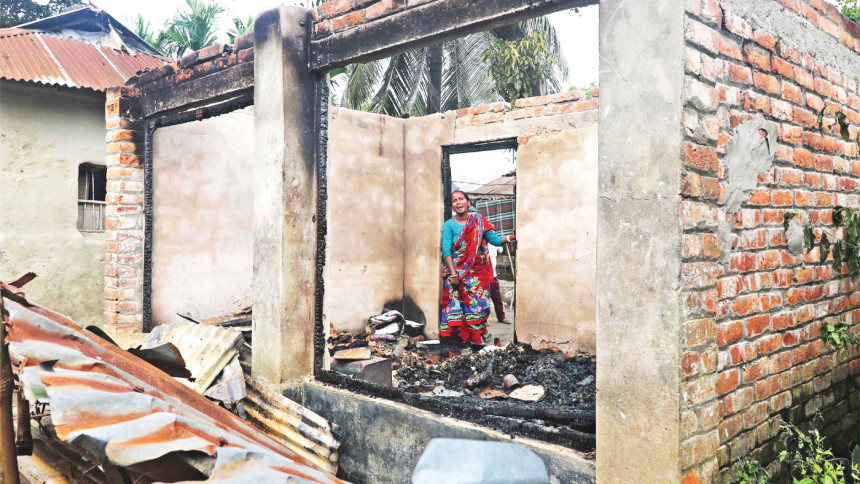 Angry mobs poured inflammable fuel on the huts and rickety shacks of the Hindu fishermen and set them on fire. Houses were torn down. Whatever valuables the poor families had in their shacks were either looted or burnt, terrified locals told this correspondent.
The zealots were after ensuring "punishment" for the Facebook post made, according to locals, by an 18-year-old man.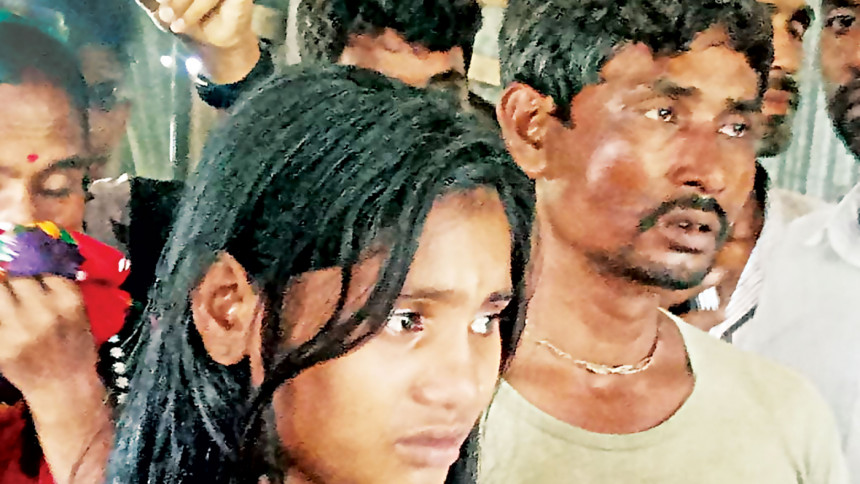 The families, many with newborns and toddlers, stood in nearby cropland and farms and watched the fires light up the night sky. Some fled the area.
The mobs continued the rampage for almost five hours, leaving 25 huts burnt to the ground, and 45 others damaged, administration officials said. Most of the victims are still living under the open sky.
Meanwhile, Home Minister Asaduzzaman Khan Kamal yesterday said perpetrators of the attacks have been identified and some of them arrested, reports BSS.
They will face tough punishment, the minister added.
Around 9:30pm yesterday, a team of police from Rangpur arrested a man in Joypurhat on charges of making the Facebook post, said Muhammad Kamruzzaman, assistant superintendent of police in Rangpur.
Police have accused him of hurting religious sentiment in a case filed under the Digital Security Act. Locals said the accused was 18 years old.
Forty-two suspects were arrested in another case filed over the attacks on the villages, he added.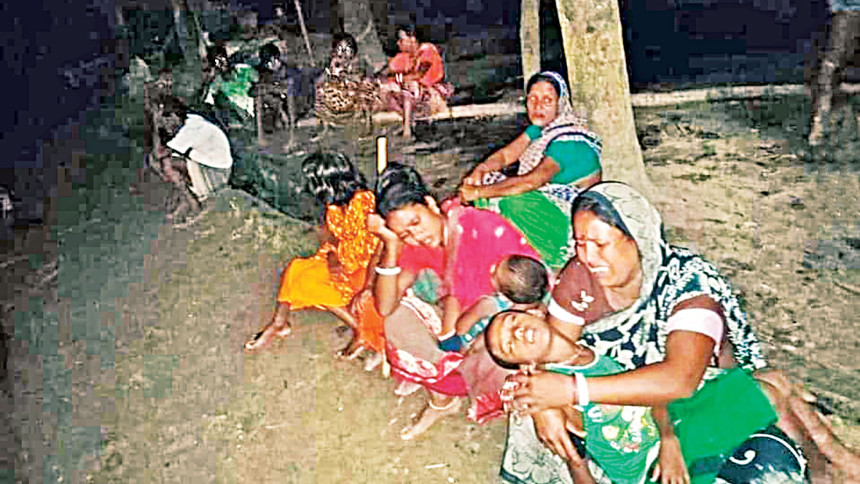 At the ruined village yesterday, Subarta Chandra Sarker, who was standing in front of what was his home a day ago, asked, "They tore down my entire house and looted all the valuables. What have I done?"
Sarker said he kept Tk 52,000 in cash at his home and it was looted.
About 180 fishermen and their families lived in Boro Karimpur village.
According to locals, tensions started rising in the afternoon after word spread that a Hindu person demeaned Islam on Facebook.
The angry mobs started gathering near Hatibandha village in the evening. To quell the tension, about 5-10 policemen arrived. Sadek Hossain, chairman of Ramnathpur union parishad, also came to the spot and tried to calm the mob.
The police cordoned off the young man's house to avert any attack.
The zealots were demanding that the man be handed to them. While the policemen and the chairman were trying to appease them, the man and his family members managed to flee the area.
But the situation got out of hand between 7:00pm and 8:00pm when loudspeakers at three mosques in Hatibandha, Boterhat and Karimpur were used to urge people to get into the act, locals said.
"They attacked the village after 8:30pm," said Monindra Chandra Sarkar of Boro Karimpur.
"There were thousands of them. Many of them wielded sticks and sharp weapons. We hid at a nearby paddy field when they were vandalising our house and looting valuables," said Monindra, adding that attackers took away his cow and a goat.
Administration officials said the zealots vandalised at least 70 shanties. Twenty-five of them were burnt to ashes. Two shops and two temples were also set on fire. Valuables were stolen from every house. Eighteen cows, eight goats, two electric rickshaws, two motorcycles, and Tk 5 lakh in cash were stolen.
During a visit yesterday, this correspondent found a puja mandap, Radha Gobinda Temple and Monosha Temple burnt.
Some victims said valuable documents of their land ownership, national ID cards, books and certificates of the students were also burnt.
Additional police forces from Rangpur, Ghoraghat, Gaibandha and Mithapukur were brought to the spot and they took control of the situation around 3:30am.
Police fired rubber bullets and used teargas shells to disperse the attackers, most of whom were young, witnesses said.
Abdul Wahab Bhuiyan, divisional commissioner of Rangpur; Devdas Bhattyachariya, DIG of Rangpur range police, arrived at the village yesterday morning and urged the villagers not to panic. Officials handed out food, 100 bundles of corrugated tins and clothes among the villagers.
The mayhem in Rangpur was the latest in a series of attacks targeting Hindu communities, starting in Cumilla on 13 October and gradually spreading to 10 districts.
In different districts, around 450 individuals were detained in at least 71 cases filed over the violence and attack on temples and houses of Hindu people, said a press release from the Police Headquarters last night.