A well-oiled syndicate
Oil being smuggled from ships through Karnaphuli by influential locals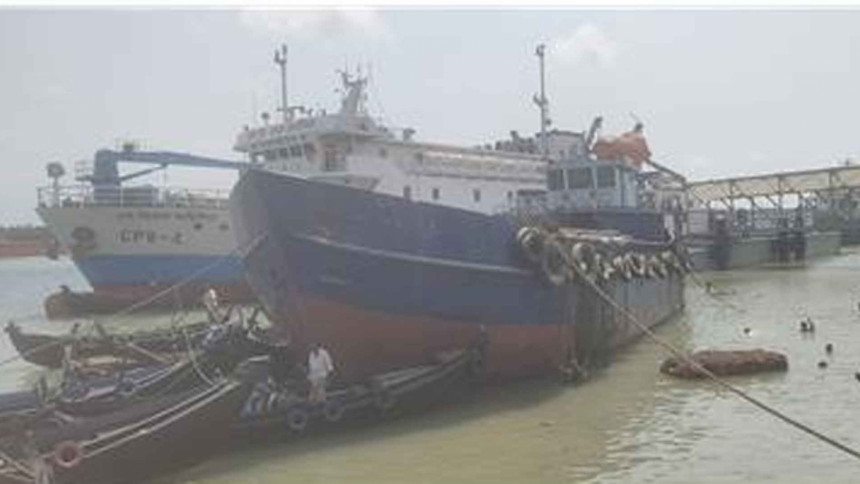 A strong, well-organised syndicate has been reportedly smuggling unrefined edible oil from mother vessels stationed at the outer anchorage of Chattogram port.
The syndicate has not only smuggled edible oil but also peddled different kinds of fuel using unique techniques, and managing local police and other agencies.
Although such illegal activities have been continuing for a long time, the smuggling issue came to light after river police of Chattogram zone seized a lighter vessel carrying 11,000 litres of unrefined edible oil on February 24.
The oil was being smuggled through Karnaphuli River. Police also arrested 12 in this connection.
According to investigators, Harunur Rashid (42) of the port city's EPZ area is the mastermind behind the syndicate. With the help of his lighter vessel, syndicate members have smuggled oil to different points of Karnaphuli to sell in the open market.
This correspondent has investigated how the syndicate smuggles oil from the sea to land and found Harun's involvement. It also came to light how Harun has made himself a leader of the ruling party's Jubo League in port city's ward-39, EPZ area.
Despite Harun being accused in the smuggling case filed with Patenga Police Station on February 24, he was not arrested. The accused is roaming freely in his area and even attends political programmes.
According to the case statement of river police, during a regular patrol in the Karnaphuli on the night of February 24, a team spotted the vessel "Tanisha Enterprise" at Ghat-13 in Uttar Laldiya Char area and seized it when smugglers were trying to load unrefined vegetable oil into two oil tanker.
During the drive, 12 persons were held as they failed to show any valid documents. After searching the vessel, police found 11,000 litres of oil inside the ship's basement.
According to police, the value of the seized oil is about Tk 8.80 lakh. The oil was scheduled to be smuggled from Patenga to another spot using the tankers.
Wishing anonymity, an official of river police told The Daily Star, "During primary interrogation of the arrestees, we came to know that the oil was unloaded from a mother vessel at the outer anchorage. The mother vessel was waiting to deliver the consignment for a renowned oil company in Chattogram."
Superintendent of Chattogram River Police Md Mominul Islam said, "We are investigating the case... They unloaded the oil in the deep sea in collaboration with the big vessel's staff and later smuggled it."
A sample of the seized oil was sent to Bangladesh Council of Scientific and Industrial Research for tests. The results revealed that it was unrefined soybean and palm oil, said Mizanur Rahman, officer-in-charge (OC) of Sadarghat River Police.
Harun was not arrested as he got bail in the case, he said.
Earlier, officials of Coast Guard East Zone found the same vessel, Tanisha Enterprise, with 13,000 litres of unrefined palm oil in the estuary of Karnaphuli on August 23, 2021. The officials handed the matter over to customs. But for some unknown reason, no legal action was taken at that time.
WHO IS HARUN?
In Ward-39, EPZ area, Harun has decorated himself as a rising leader of the local Jubo League. He is active in participating in all kinds of political programmes in his area, hanging banners and posters and gathering local political supporters.
Though Harun is now a political leader, he has been involved in oil smuggling in the EPZ-Patenga area for a long time, becoming a headache for authorities concerned, according to police and other sources.
According to police, Harun has stood accused in at least four cases filed with EPZ and Patenga police stations.
Harun's elder brother Humayun Kabir (45) was also arrested on February 24 and was accused in the relevant case.
EPZ Police Station sources said among two cases of EPZ, Harun was implicated in the charge sheet of one, while his name was dropped from the other, which was filed for a clash.
According to local sources, Harun's brother-in-law Elias is the syndicate's manager, while one Saiful Islam takes care of the vessels. One Jasim reportedly deals with all law enforcement agencies.
Jasim is known as the informant of a government agency, but The Daily Star could not verify this information independently.
HOW THE SMUGGLING TAKES PLACE
The seized vessel, Tanisha Enterprise, was being operated by Harun and Saiful. They had managed a licence for the vessel from Directorate General of Shipping by showing it as a sand barge.
The vessel was given approval for operation on December 12 last year, according to documents.
Investigators said in the guise of supplying different items to kitchen markets, Harun runs the vessel in the deep sea and allegedly commits the crime.
A few staffers, including those of the mother vessels, which carry thousands of tonnes of oil abroad, are involved with the smuggling.
When the lighter vessel is anchored, a green signal is sent to the mother vessel, and the oil is picked up.
Later, the oil is filled in plastic drums and sent to the open market for sale.
Contacted, Harun said, "We are moving food and other items from big ships stationed at the outer anchorage through the vessel [Tanisha]. We had carried sludge oil on that day from a ship, but police arrested my workers, and the case is being investigated."
Asked if he had permission to carry oil in a sand barge, Harun said, "It's my mistake. I'm sorry. We will not do it again. I'm not an oil smuggler, but my opponents spread false information. I don't know any Jasim."