Unrest After Cumilla Incident: Security beefed up, 100 held
BGB deployed in 22 districts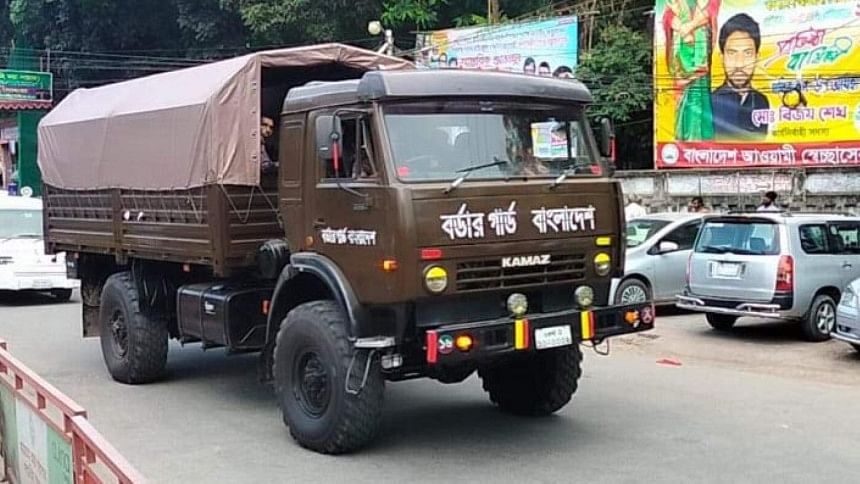 Almost 100 individuals were arrested in different districts in connection with the violence at several places following reports that "the Holy Quran was demeaned" in Cumilla.
Teams of Border Guard Bangladesh (BGB) have been deployed in Cumilla, Narsingdi, Munshiganj and 19 other districts to ensure security during the Durga Puja celebrations, said a press release issued by the BGB.
Meanwhile, another man named Shamim, 19, died yesterday of injuries he received during clashes between police and a mob in Hajiganj, Chandpur, raising the death toll from the clash to four.
Shamim was a resident of Randhunimura area of Hajiganj, said Harunur Rashid, officer-in-charge of Hajiganj Police Station.
The OC added that seven people were arrested in connection with the clash that left at least 23 policemen injured.
The authorities imposed Section 144 in Hajiganj following the violence and deployed two platoons of the BGB to restore law and order.
Administration officials in Chandpur and Cumilla formed separate committees to investigate the violence in the districts. Cumilla Deputy Commissioner Kamrul Hasan yesterday said a three-member committee has been formed and asked to submit a report within three days.
Police said four cases were filed and 41 individuals were arrested in Cumilla.
At least 13 temples, idols in those temples and 40 businesses of Hindus people were vandalised after Wednesday night in five districts. At 95 people were injured during the time.
Home Minister Asaduzzaman Khan after a high-level meeting with the cabinet secretary and heads of different law enforcing and intelligence agencies at the ministry said several individuals were identified in connection with the incident in the Puja Mandap in Cumilla and they will be arrested soon.
The home minister added that those spreading rumours in social media will also be brought to book.
In Bandarban, at least 25 people including 10 policemen were injured in a clash between a mob and law enforcers in Lama kendrio Hori Mandir yesterday. The clash ensued when several hundred religious fanatics attacked the temple around 11:00am.
They also vandalised at least 40 shops owned by Hindu people, said Prashanto Bhattacharya, president of the temple management committee.
In Noakhali, villagers attacked two temples in Hatiya and one in Begumganj on Wednesday morning. Police have so far arrested five people in connection with the attacks.
In Gazipur city, miscreants attacked at least three temples and vandalised idols in Kashimpur Bazar yesterday. Police later arrested at least 20 people in connection with the attacks.
Human chains were formed in Gazipur and Barishal to protest the attacks in Gazipur and elsewhere.
In Rajshahi's Bagmara upazila, 10 individuals, including a policeman, were injured in a clash between a mob and the police.
There were clashes in Chattogram, Kurigram and Moulvibazar on Wednesday, where Hindu idols and temples were vandalised.
Meanwhile, Bangladesh Puja Udjapan Parishad in a statement yesterday urged Hindu people across the country to observe sit-ins at each Durga Puja mandaps today for three hours from 11:00am in protest of the attacks.
Contacted, Bangladesh Hindu-Buddhist-Christian Oikya Parishad General Secretary Advocate Rana Dasgupta expressed grave concerns over the attacks, saying, "We will soon announce programmes protesting the attacks."