Under new identity, death row convict militant Mufti Hai was hiding in N'ganj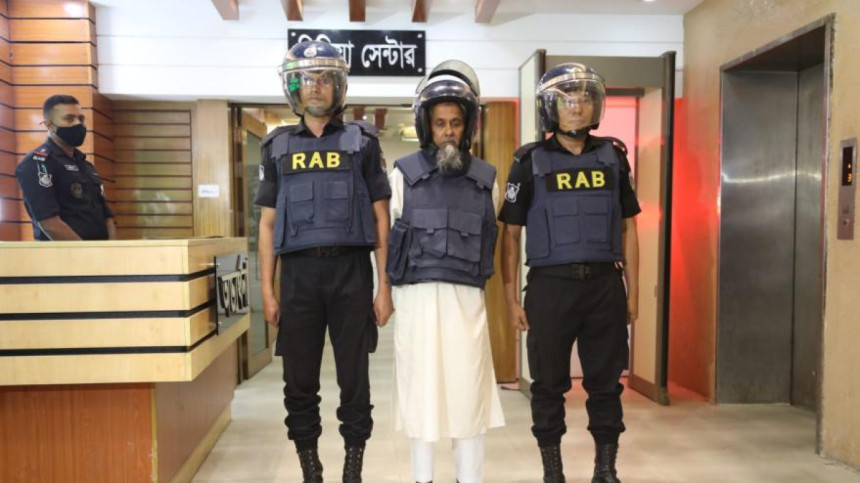 Mufti Abdul Hai, a fugitive convicted to death for attempting to kill Sheikh Hasina in 2000, started living in Narayanganj in 2009 after changing his name.
The founder Amir of Harkatul Jihad al Islami Bangladesh (Huji-B), Hai, not only changed his NID card but also NIDs of all of his family members to avoid arrest.
While in Narayanganj, he hardly went outside.
This is how Hai, also convicted to death in the 2001 Ramna Batamul blast case, has been hiding since 2006.
Khandaker Al Moin, Rab's legal and media wing director, was briefing reporters today, a day after Rab-2 arrested Hai from Fatullah upazila in Narayanganj.
An accused in at least 13 cases, the senior militant was sentenced to life term in two other cases, Moin said.
Mufti Hai first went into hiding near his father-in-law's house in Gouripur upazila of Cumilla after his involvement in the attacks surfaced in 2006. He later shifted to Narayanganj.
He was the founder and editor of a newspaper "Jago Mujahid", in Dhaka's Khilgaon, where fellow militants including Mufti Hannan held meetings. 
The government banned the newspaper in 2000. He was arrested that year but was released after two months on bail.