Tortured while on video call with family
Victim shares ordeal of being held captive by trafficking syndicate in Iraq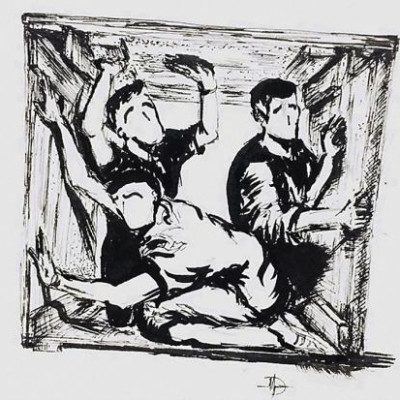 Find your fellow Bangladeshis. Bond over the sweet homesick feelings. Be friends. Invite them over for a meal.
Once they are in your den, confine them amid their utter surprise.
This is how an Iraq-based transnational human trafficking syndicate members have been trapping Bangladeshi expatriates, along with their Pakistani and Iraqi cohorts.
In the first 24 hours of captivity, syndicate members torture the victims physically and record the whole ordeal. The videos are later sent to the victims' family members to blackmail them for a ransom.
These horrific accounts came to the fore after seven Bangladeshi victims were released from the syndicate's captivity in Iraq in the last 48 hours. Of them, three have managed to establish communication with the Bangladesh embassy in Iraq and back to their work. Five remain untraced.
Following the arrest of two members of the syndicate -- Imran Hossain and Alamgir Hossain -- from Narayanganj and Dhaka by the economic and human trafficking team of Counter Terrorism and Transnational Crime (CTTC) unit on Monday, the victims were released.
According to CTTC officials, the released victims have been identified as Apel Ali, Sher Ali, Bablu, Maruf, Zihad, Foysal and Mazlu Ar Rahman.
Tohidul Islam, CTTC additional deputy commissioner, told this correspondent that victim Apel, Sher Ali and Mazlu went back to work safely.
"We are currently trying to trace the five other victims," he said.
The investigators have managed to get details of five Bangladeshi syndicate members from the released victims.
CTTC identified them as Shehab Uddin, the ringleader and accused in at least two other trafficking cases in Bangladesh; Sofiq, in charge of the financial transactions; and Sharif, Jahangir and Nahid.
Shehab was in-charge of the communication and illegal trafficking of people to Iran or Europe.
ADC Tohidul said these suspects are currently hiding in Iraq. "We would seek Interpol assistance to take action against them," he added.
Meanwhile, interrogating the two arrestees -- Imran and Alamgir -- CTTC officials collected details of some bank accounts in Bangladesh, where ransoms used to be deposited.
"We are currently verifying the account holders' connection with the suspects," said ADC Tohidul.
"We may be able to get more details following the arrest of Shehab," he added.
VICTIM'S ACCOUNTS
The syndicate's recently-released victim Sher Ali shared his experience of captivity with this correspondent.
Sher Ali has been staying in Iraq for the last five years. He met Nahid some 12 to 14 days ago before the incident.
Nahid invited him to his place, came to pick him up with a taxi and brought him to a two-storey building in Baghdad's Hay Jama area.
Nahid asked Sher Ali to freshen up and then took him to a room on the building's ground floor.
To his utmost surprise, he discovered five people on the floor, with their arms and legs all tied up. He was still dealing with the shock when three people came from behind and tied him up as well.
Then the torture began. He was physically tortured the entire day. At one point, they started recording the ordeal. The video was sent to Sher Ali's family and asked for a ransom of Tk 1 lakh to an MFS account in Bangladesh.
Once his family deposited the money, the attackers, on the next day, asked for another Tk 2 lakh. "This time, they tortured me while on a video call with my family," he said.
Through the process, the attackers collected around Tk 4 lakh from Sher Ali's family, he shared, recalling his terrifying experiences.
The two other victims -- Apel Ali and Mazlu-ar-Rahman -- shared similar stories.
"We have information that some of these victims' families have paid up to Tk seven lakh to the syndicate members. We may able to say clearly after collecting the full details," said ADC Tohidul.