At the mercy of political leaders
Illegal sand lifting continues unabated in Bongshi river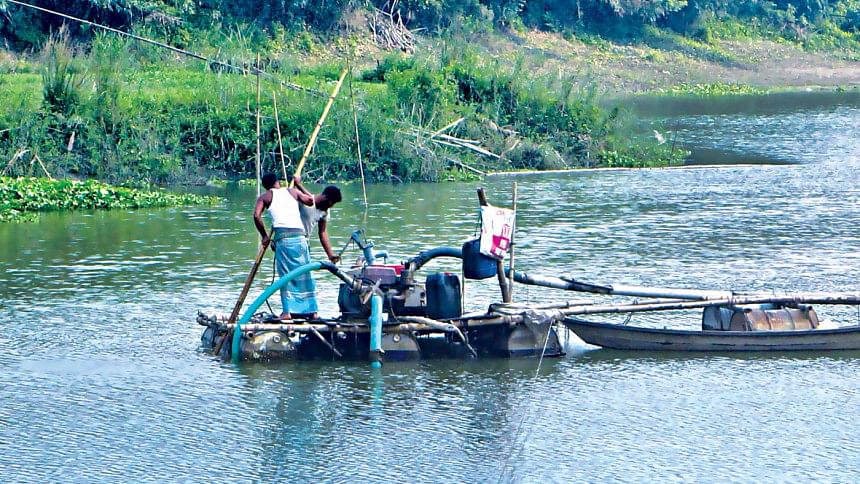 On over 60 decimals of land stands Yunus Ali's lemon orchard. It's located at the banks of the Bongshi river, falling under Amchirmor village in Dhamrai's Jadavpur union.
His orchard used to be even bigger back in the days. But as a result of indiscriminate illegal sand lifting on the river, he lost around 10 decimals or land over the years.
Yunus' case is far from the only one in the area. In fact, beyond Amchirmor, over a thousand farmers and land owners around the river are similarly affected by the ceaseless dredging using illegal dredging machines, in several areas including Batulia, Kushura, Paragram, Pankatta, and Narsinghapur.
Visiting the areas recently, this correspondent found out that most of the illegal sand lifting is done by local political leaders affiliated with the ruling Awami League or its affiliate organisations.
For example, Yunus' son Ismail told The Daily Star that one Rezwan Hossain, an AL leader in Jadavpur union, uses his dredger to lift sand right beside the family's lemon orchard. In the process, the orchard keeps losing land due to erosion.
"We have requested local political leaders to intervene multiple times. At this point, I don't think anyone is willing to hear our pleas," he said. "This is especially true as the people who are lifting the sand are the same people who are powerful enough to stop it."
He said this illegal practice has been going on for seven or eight years, but in all this time, no one from the police or the local administration has taken any steps against it.
Dredging sand this way has become quite the lucrative business. "A small dredger can lift up to six or seven thousand square feet of sand every day. It is then sold at Tk 4-6 per square feet," informed dredger worker Billal Hossain.
Billal, who works under AL leader Rezwan, claimed, "Our owner has obtained permission to lift sand for 15 days from the administration in order to dump sand at local MP Benzir Ahmed's sister's house."
This is an important element to the story. As the MP's sister's house is located at a low-lying area, sand is being dumped there to raise the land. Moreover, during the lockdown, the MP himself set up an orange garden in a similar manner.
The sand is used for other purposes too, such as renovation for government roads and
various establishments. One Abdur Rashid, owner of a dredger at Batulia area, said he lifts sand from the river and sells it to a local mosque.
All of this was done using illegal dredgers, said a local AL affiliate organisation leader, seeking anonymity.
Contacted, AL leader Rezwan said he has stopped lifting sand, but the MP's nephew MD Shahin is still doing it using Rezwan's dredger.
However, talking to The Daily Star, Shahin straight up denied the allegations.
This correspondent then contacted Benzir Ahmed, MP of Dhaka-20 and president of Dhaka district AL. He said he has asked the Upazila Nirbahi Officer of Dhamrai to stop all dredging activities in the river.
When asked about illegally-lifted sand being used for his sister's land, he said he was not aware of it. When asked about his orange garden, he denied the allegations and claimed to have no such garden to begin with.
Contacted, UNO Hossain Mohammad Hye Jocki told The Daily Star that the local administration, for their part, has not allowed any dredging activity on the river.
"As soon as we come to know of illegal dredgers, we conduct drives and take them down," he added.