Teacher in jail, family in fear
Wife says he is a victim of conspiracy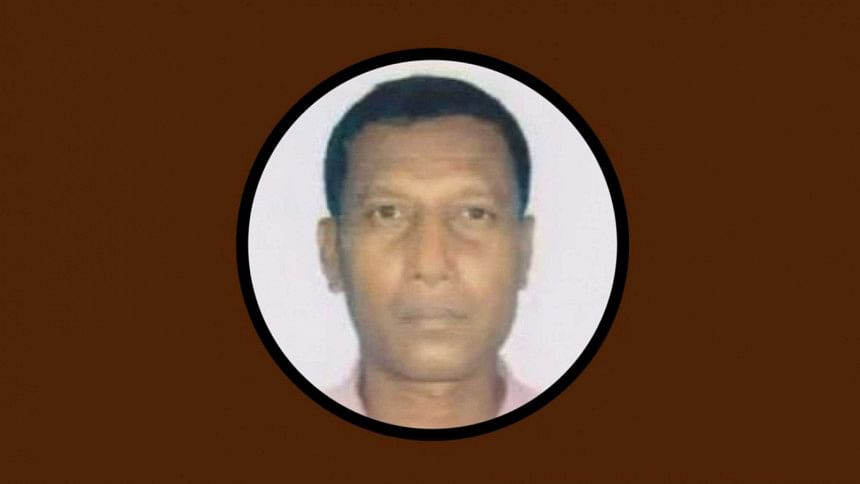 Family members of Hriday Chandra Mondal, the Munshiganj school teacher now behind bars in a case over demeaning religion, are passing days in panic.
Even his son has stopped going to school because of social harassment.
"My son cannot go to school. Other students tease him -- they call him the son of a criminal. So I have stopped sending him to school," said Hriday's wife Babita Hawlader.
"Even some of our neighbours often hurl abuse at us. We are passing days in fear and insecurity."
Babita's elder brother Badal Hawlader said, "We have almost been ostracised. We don't go out during daytime in fear of untoward incidents."
Hriday has been teaching in the school for 21 years, and all these years, not a single complaint was filed against him, he said.
On March 20, Hriday, assistant teacher of Binodpur Ram Kumar High School in Munshiganj, was having a conversation with students about the difference between science and religion.
Later in the afternoon, a group of students filed a written complaint with the head teacher, alleging that Hriday made derogatory comments on Islam.
On March 22, some students staged a demonstration and police detained Hriday. That night, the school's office assistant, Md Asad Miah, filed the case for "demeaning religion".
In the meantime, a mobile phone recording of the classroom conversation was circulated among locals.  
"We have long been facing troubles from some unruly students. They used to stalk my husband on roads and even in classroom. Besides, some people would often kick our doors and knock on our windows and flee," said Babita.
Usually, students are not allowed to enter classrooms with mobile phones, "So, how could someone record the conservation," she questioned?
"My husband did not make any derogatory comments over Islam. He was framed in a planned way. A vested quarter is conspiring to benefit by inciting students."
She also demanded immediate release of her husband citing that he is physically ill and needs regular medication.
Hriday's lawyer Ajoy Chakraborty, also the president of the district lawyers' association, said, "We have filed petitions twice seeking his bail. But the petitions were rejected. We will seek his bail again during the next hearing on April 10."
He added, "In the FIR, police intentionally incorporated a section on demeaning religion."
Samor Ghosh, president of Munshiganj district unit of Bangladesh Puja Udjapan Parishad, said, "Hriday is innocent. Some people might have conspired against him and provoked the students."
Jamal Uddin, another teacher of the school, said, "Hriday is a peace-loving guy. There were no allegations against him in the past. I also don't know how could a student carry mobile phone in the classroom."
Contacted, school's office assistant Md Asad Miah said, "I have filed the case as per directives of the school authorities."
Headmaster Md Alauddin Ahmed said  a group of students filed a complaint on March 20 afternoon alleging that Hriday made derogatory comments on Islam.
"The next morning, we served a show-cause notice upon him. But students started demonstrating on March 22 morning. On information, police came and detained him," he said.
The Daily Star has found that a tenth-grader recorded the conversation on his mobile phone.
"There was a discussion on science and religion in our class. At one stage, he [Hriday] made derogatory comments on Islam," he told The Daily Star.  
About the agitations on March 22, he said, "We were in class that day. Some of my friends and outsiders came to us and took us to the protest. I don't know the outsiders. But they are locals."
Md Mizanur Rahman, investigation officer of the case and sub-inspector of Munshiganj Sadar Police Station, said, "We have got an audio clip of the conservation between the teacher and the students. But we did not find the allegation brought against him to be true. We will submit the charge sheet shortly."