Sust shut after cops, students clash
30 hurt as police swoop on students confining the VC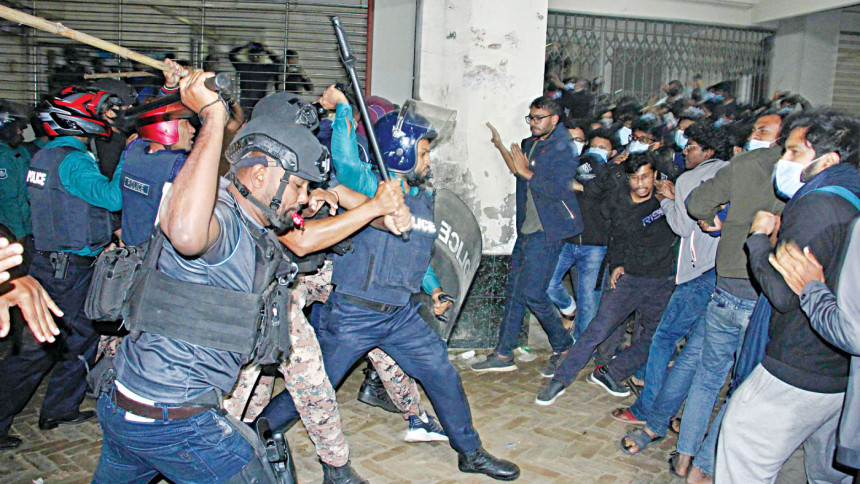 Shahjalal University of Science and Technology was closed for an indefinite period after 30 students were injured in a clash between them and police yesterday.
Students were asked to vacate their dormitories by this noon.
"After a clash between police and students followed by an attempted assault on me and other teachers, the decision was made in an emergency syndicate meeting in the evening," said Sust VC Prof Farid Uddin Ahmed.
Around 5:30pm, the clash ensued after police charged truncheons on the protesting students to free the VC, who was confined to the MA Wazed Miah IICT Building on the campus.
The students confined the VC to press home their three-point demand, including the removal of Begum Sirajunnesa Chowdhury Hall Provost Zafrin Ahmed Liza for her alleged misbehaviour with a student.
During the clash, police also blasted sound grenades and shot rubber bullets, injuring five students critically, claimed the students.
Police claimed that at least 10 police personnel, including Azbahar Ali Sheikh, deputy commissioner of SMP, were hurt.
Besides, Prof Anwarul Islam, treasurer of the university, and Prof Zahir Uddin, director of students' welfare, were injured during the clash. Prof Zahir suffered gunshot wounds.
VC Prof Farid said, "During the clash, someone among the students opened fire. Prof Zahir was shot in his chin and hand."
Students of Begum Sirajunnesa Chowdhury Hall started demonstrating on Thursday night after Provost Zafrin allegedly misbehaved with a student when she approached her with some issues.
Besides her removal, they also demanded a student-friendly hall provost committee and resolving of mismanagement at the dormitory.
After a failed meeting with the VC on Friday, the students gave a 24-hour ultimatum to the university authorities. After the deadline, they started protesting from 7:00pm Saturday.
Yesterday morning, students called off all classes and exams until their demands are met.
Around 3:00pm, the students halted VC Prof Farid when he came out of his office to attend a meeting with deans.
Teachers and officials then took the VC to the IICT Building.
A team of Sylhet Metropolitan Police then went there to free the VC.
In another development, Provost Zafrin Ahmed resigned from the post, citing personal reasons, said the VC. Prof Nazia Chowdhury is the new provost of the Begum Sirajunnesa Chowdhury Hall, he added.