Sultana fell sick on way to police station: Rab
Rab's inquiry cell asked to investigate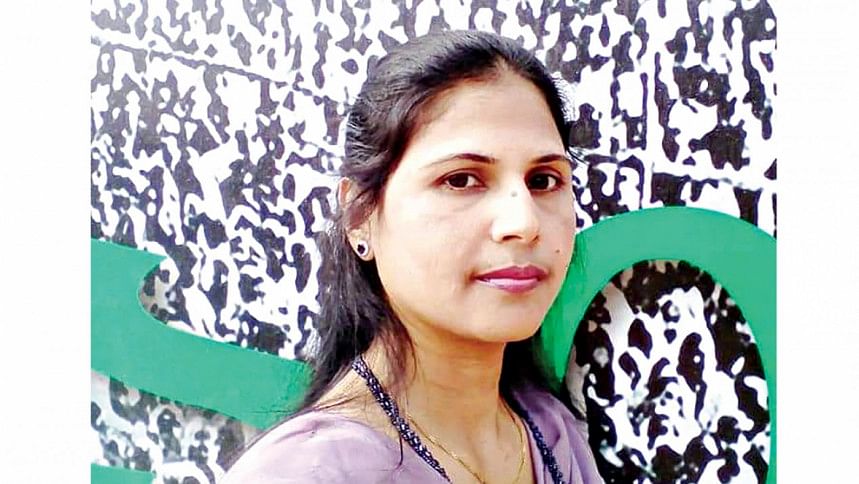 Rab today claimed that Sultana Jasmine, who died in custody on March 24, had initially fallen ill while being taken to a police station on March 22.
After detaining Sultana, a union-level land employee in Naogaon, members of the force were busy printing documents from her cell phone at a nearby shop for around an hour and a half, it also said.
They conducted their primary interrogation and evidence gathering in presence of the complainant and witnesses.
When Sultana felt sick on the way to the police station, Rab members took her to Naogaon Sadar Hospital, Commander Khandaker Al Moin, director of Rab's legal and media wing, told reporters today.
He was answering questions about why it took more than one and a half hours after Sultana's detention for Rab members to take her to hospital.
Rab officials detained Sultana around 11:30am and admitted her to the hospital around 1:15pm.
Moin said Sultana had gotten out of the vehicle and walked into the hospital.
Her relatives and colleagues were then informed about her illness and she was provided treatment in the hospital under their supervision, the Rab official said.
Moin further said hospital authorities in the evening suspected that the 38-year-old woman might have suffered a stroke and transferred her to Rajshahi Medical College Hospital.
Sultana was shifted to the ICU after the doctor found signs of stroke in a CT scan, said the official.
She died while undergoing treatment in the hospital.
Moin said an enquiry cell of the Rab Headquarters was tasked to investigate whether there was any negligence on Rab members' part as the woman fell ill while in Rab's custody.
Departmental action will be taken if anyone is found guilty in the investigation, he said.
Asked about the injury to Sultana's head, Moin said, "We did not have any information of injury. The postmortem report is important here and investigation is underway. It needs some time."
Regarding the arrest of Sultana, Moin said fraudsters assumed the identity of Enamul Haque, joint secretary of Rajshahi divisional commissioner's office, by hacking his Facebook ID and also making a fake ID. Using the IDs, they extorted money from people with false promises of jobs.
After becoming aware of this, Enamul filed a general diary in March 2022 regarding this incident, he said.
A woman even filed a case against Enamul for fraud because the racket was run by those assuming his identity.
Enamul came to know that the fraudsters had extorted money on March 19 and 20 and he also came to know that one of the fraudsters was named Al Amin, and later he also came to know that Sultana was involved.
On March 22, Enamul complained about it to a Rab patrol team and then Rab analysed technological data to detect the women's location and detained the woman for interrogation, Moin said.
Enamul himself, Rab's female officials and witnesses were present during the detention and interrogation process, said the Rab official.
"Sultana Jasmine admitted her involvement during interrogation in witnesses' presence. Enamul's Facebook ID was found open on Sultana's phone."
Moin said Rab also found evidence of transactions of lakhs of taka and bank account details from her cell phone.
Regarding the time to file the case, Moin said filing of a case under the Digital Security Act takes time and requires permission.
Complainant Enamul Haque filed a case with the police station with permission later, he said.