'Shall we leave then?'
Victim of Pirganj arson attack asks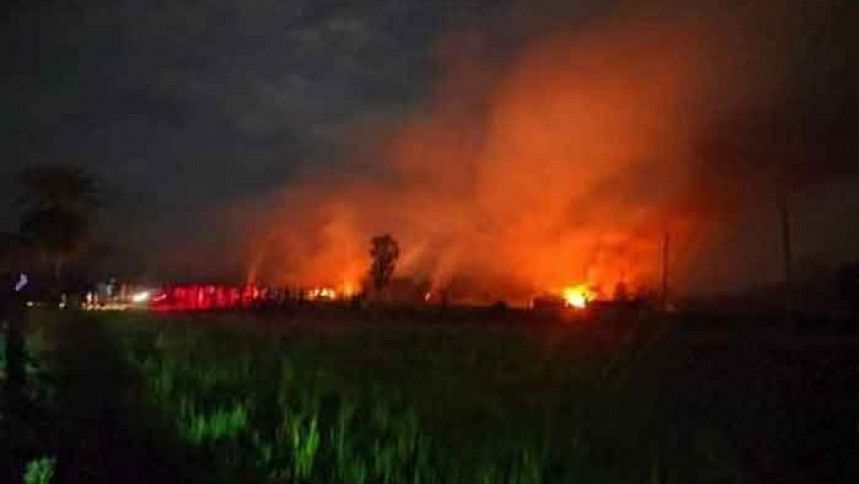 "So many people entered the village and attacked with sticks and sharp weapons. Didn't recognise anyone. My house was looted and the store was set on fire. How do we survive now? Shall we just leave then?"
Jagdish Chandra Das, a fish trader from Majhipara in Rangpur's Pirganj upazila, said this today -- after the arson attack last night -- reports our Dinajpur correspondent.
"I have been fearing an attack in the area since last evening. It started around 9:30pm. I bought a new fridge a day before, it was also burnt with the rest of my belongings," he said.
The same situation was faced by Nani Gopal, of the village. All his belongings were looted and his house was also set on fire. He could not save anything.
"Seeing the situation worsening fast, I hid in a paddy field for an hour and came back when the situation eased. My house was also looted and burned down," said Purnima Das of the village.
"We were being verbally abused. They (the attackers) were saying, they won't allow us to live in this country. The attackers were mostly 20-25 years old," said Sudarshan Das, another villager.
The village was attacked centring a Facebook post by Paritosh Chandra Das (18), son of a local Prasanna Chandra Das, said the victims.
Fearing for life, Paritosh's family fled the area. Their house has been looted and the adjacent paddy field was set on fire.
Everyone in the area had not eaten since last night. Later, the local administration provided food. There is no electricity in the area as power connection was also destroyed.
Last night around 10pm, miscreants reportedly set fire to 25 houses and shops, including seven tin-shed houses, nine buildings, four mud houses and two shops in Majhipara, Battala and Hatibandha villages of Ramnathpur union, under Pirganj upazila.
A total of 66 families were affected by the incident, according to a government agency.
At least 42 people have been detained in connection with the arson attack.