Sexual assault at CU: 4 BCL men among 5 held
Victim's phone recovered, 2 arrestees expelled from univ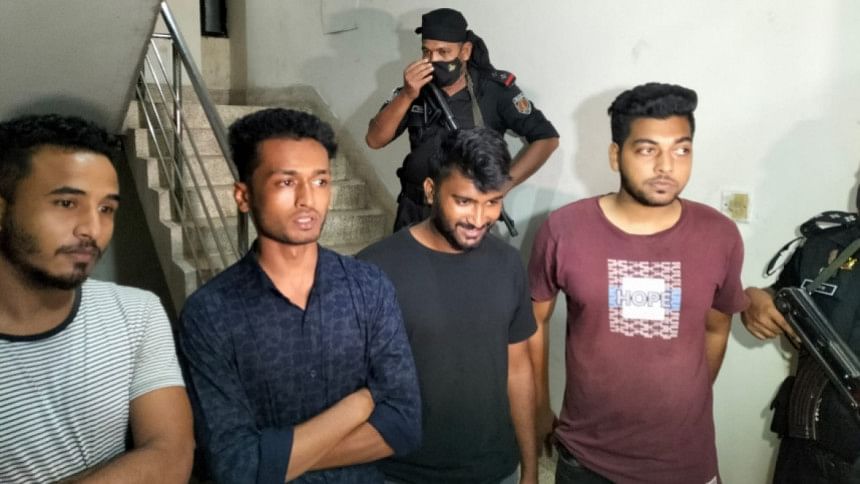 Four Chhatra League men were among the five arrested by Rab yesterday on charges of sexually assaulting a female student on Chittagong University campus last week.
Arrestees Azim Hossain, 23, and Nurul Absar Babu, 22, are students of the university, while Masud Rana, 22 and Nur Hossain Shawon, 22, are students of Hathazari College, and Saiful Islam, 23, is a college dropout. 
Hours after the arrests, the university authorities expelled Azim and Nurul for life. The two men were members of two factions of Chhatra League at Chittagong University (CU), according to other BCL men.
The officers recovered the mobile phones of the female student and her friend from their possession, Commanding Officer Lt Col Muhammad Yousuf told The Daily Star, adding that Rab took another CU student into custody for interrogation.
"Six young men took part in the sexual assault. Two of them were Chittagong University students and the rest were outsiders," Yousuf told a press conference in the port city yesterday.
"On July 17 night, Saiful and Shawon, riding a motorcycle, stopped the victim and her friend who were walking on the Botanical Garden Road. The duo then called the others to the spot.
"The six men first intimidated the victim and demanded money from her. At one point, they snatched their belongings. They later assaulted the student for almost an hour and filmed the incident using the phones of the victim, her friend, and Azim. The men threatened to upload the footage online.
"Soon after the incident, the woman went near Suhrawardy Hall and called her friends from a student's phone and told them what had happened."
One other suspect, named Saiful, is on the run.
The suspects, who are not students of the university, live close to the campus as their family members are employees of the university.
"The victim has identified the criminals." However, she is confused as to whether another student was involved, he added.
After a meeting on campus, CU Vice-Chancellor Shireen Akhtar yesterday said, "The incident that happened on CU campus is shameful. Prime Minister Sheikh Hasina has enquired about it."