Rohingya leader Mohibullah shot dead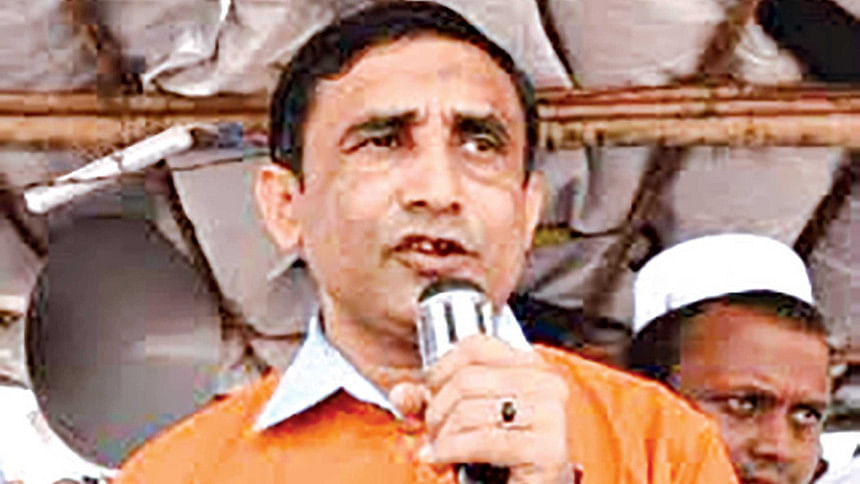 Unidentified criminals shot Rohingya rights activist and leader Mohibullah dead at his office in Kutupalong camp under Cox's Bazar's Ukhia upazila last night.
Rohingyas in camps of Kutupalong are tensed with police and local administration issuing an alert across the district to avert further violence.
Residents of the camps questioned how the criminals entered, shot Mohibullah and then fled despite the presence of law enforcement personnel inside the camp.
Police said Mohibullah came to his Forcibly Displaced Myanmar Nationals (FDMN) camp-1 east office after offering Esha prayers around 8:30pm. Three armed men then entered and fired five bullets.
Additional Deputy Inspector General (DIG) (crime) of Chattogram Range Police Jakir Hossain Khan told The Daily Star, "Three bullets hit his [Mohibullah's] chest, leaving him critically injured. The criminals fled the scene immediately afterwards.
"He was taken to Kutupalong MSF Hospital where doctors declared him dead," said the DIG.
Mohibullah was the chairman of Arakan Rohingya Society for Peace & Human Rights (ARSPH) and played a vital role in the Rohingya repatriation process, according to police.
Rohingya sources said Mohibullah was a very popular leader in the community and had a great role in uniting Rohingyas who fled Myanmar fearing persecution by the security forces of that country.
The sources said Rohingyas had staged a mass rally led by Mohibullah voicing their demands, which made headlines.
He also visited the White House in July 2019 and talked to former president Donald Trump about the Rohingya crisis in Myanmar.
However, talking to the Daily Star, Rahman Nasir Uddin, professor of Chittagong University's (CU's) anthropology department and also someone who has been researching the Rohingya crisis for two decades, said, "Rohingya repatriation will face difficulties now as Mohibullah was a renowned Rohingya leader.
"In the last few days, he mobilised and geared up Rohingyas to raise their voices for repatriation, drawing international attention. Rohingyas who are against Rohingya terrorist groups, relied on Mohibullah and listened to his directives in moments of crises," he said.
"ASRPH is an internationally recognized organisation, the fate of which now hangs in balance as there is no alternative to Mohibullah in the community," said the teacher.
Human rights activist Noor Khan Liton, who worked with Mohibullah, said the Rohingya leader was one of the progressive forces and mobilised people of the community in demanding repatriation and justice for the genocide against them.
"There is no doubt that extremist forces are behind his killing," Liton told The Daily Star.
LOSS OF A VITAL VOICE FOR ROHINGYAS
In a statement issued by Human Rights Watch after Mohibullah's death, Meenakshi Ganguly, South Asia director of the organisation, said Mohibullah was someone who "always defended the rights of the Rohingya to safe and dignified returns and to have a say in the decisions concerning their lives and future".
"His killing is a stark demonstration of the risks faced by those in the camps who speak up for freedom and against violence," she said, adding that his death undermines Rohingyas' struggle for greater rights and their efforts to safely return to Myanmar.
"Bangladesh authorities should urgently investigate Mohibullah's killing along with other attacks on Rohingya activists in the camps."