Tangail bus robbery: Mastermind behind 10 robberies in 6 months
Rab says
Ratan Hossain, the mastermind behind the hijacking, robbery, and rape on the moving bus in Tangail on August 3, had been working as a bus helper and collecting information to lead bus robberies since 2018.
The 21-year-old youth has committed at least 10 robberies in the last six months alone.
Khandaker Al Moin, director of Rab's Legal and Media wing, said this after arresting Ratan and his nine accomplices from different areas, in connection with the bus robbery during which a female passenger was gang raped.
At a press briefing at Rab media centre today, Moin said Ratan had been arrested twice earlier and also was in jail for about two and half years. He walked out of jail on bail nine months ago.
He planned the bus robbery just three days before the incident.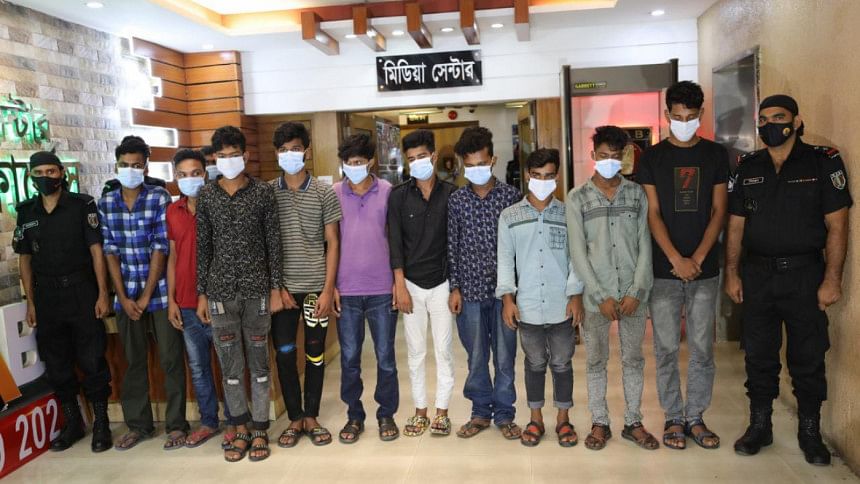 The nine other arrestees are: Alauddin (24), Sohag Mondal (20) Khandaker Hasmat Ali alias Dipu (23), Babu Hossain alias Julhas (21), Md Jibon (21), Abdul Mannan (22), Nayeem Sarker (19), Rasel Talukder (32) and Aslam Talukder Raihan (18).
Rab officials said seven of the arrestees are garment employees and the rest are helpers of different buses.
Ratan used to plan the robberies and gather the other team members. After committing the crimes, they used to return to their workplaces, Rab officials said.
Moin said one female passenger spoke out about the rape but the arrestees told Rab that they sexually abused more than one female passenger inside the bus on August 3.
Investigators will look into whether any other woman was raped, he said replying to a query.   
According to Rab, 13 gang members took part in the bus robbery in Tangail.
Rab claimed to have seized 20 mobile phones, which the gang members robbed from the passengers that day.