Robbery, Gang Rape on Bus: Case complainant recounts the night of horror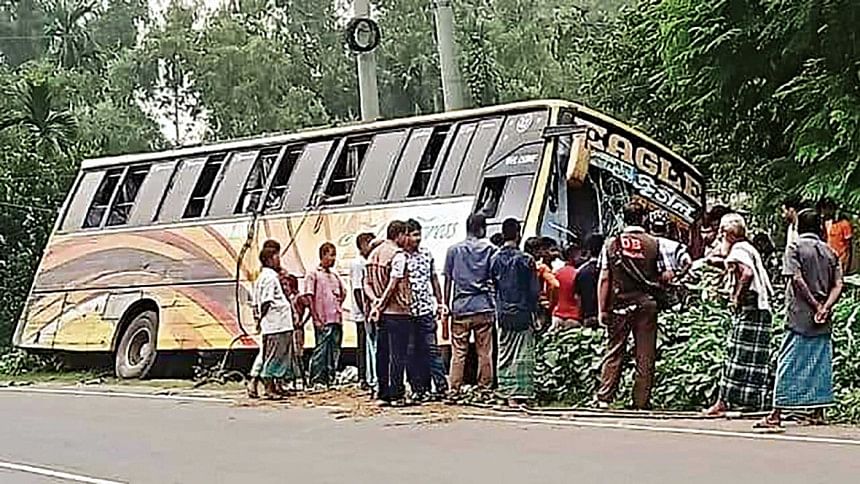 Hekmat Ali, complainant of the Tangail bus robbery and gang-rape case, narrated his dreadful experience on that night to The Daily Star.
At present, he's still trying to recover from the shock of the incident.
Hekmat (28), a fruit trader from Salimpur village of Daulatpur in Kushtia, was travelling to Dhaka on the Eagle Transport bus with his wife, two children, and mother-in-law. He was heading to Dhaka Medical College Hospital for an ear operation.
His relatives were supposed to receive them at Jatrabari.
"Our journey started at 8:23pm on Tuesday. We sat in the middle seats of the bus. After a half-an-hour break at a restaurant in Sirajganj, the bus staffers let 10 people board the vehicle, who were actually robbers in the guise of passengers, from three places between 11:30pm and 12:00am."
"Around 1:00am on Dhaka-Tangail highway, the robbers removed the driver from his seat after threatening him with sharp weapons, and one of the robbers started driving the bus. They tore off the clothes of passengers in the moving bus and tied our hands and faces with those."
"At one stage, one of the robbers slapped me hard on the ear. They took away Tk 22,000, two mobile phones, and my wife and mother-in-law's jewellery."
"I could hear that they were torturing a woman sitting behind us, but there was nothing I could do about it. I also heard screams of another woman from the front seat, but I couldn't see anything in the dark," he said.
"The robbers left us with the vehicle at Madhupur in Tangail around 3:30am," he added.
"Later, locals came and rescued us. Police also came and took away the bus staffers first, and later, we were also taken to the police station."
"Hearing everything from us, police asked us to file a case. I just wanted to be a witness of the case. But they asked me to be the complainant, so later, I agreed."
"The police put us in a BRTC bus at 9:00am [on Wednesday] to go home," Hekmat added.