Rifat murder case: Death-row convict Minni seeks bail from HC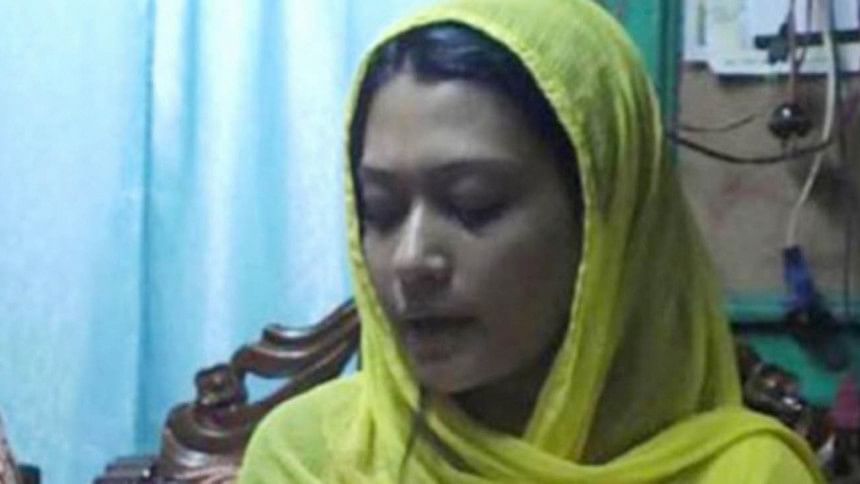 Death-row convict Ayesha Siddika Minni today (October 16, 2022) filed a petition with the High Court seeking bail in the murder case of her husband Rifath Sharif.
Minni, now in a Kashimpur jail, submitted the petition through her lawyers ZI Khan Panna and AM Jamiul Hoque Faisal, saying that she was not involved in the murder of Rifat Sharif and that she was trying to save him.
Rifat (25), an internet service provider, was hacked by a group of youths, led by prime accused Nayon Bond, in front of Barguna Government College in broad daylight on June 26, 2019. Rifat died at Barishal Medical College Hospital later that day.
A video clip of the barbaric attack, believed to be captured on a mobile phone, went viral on social media and triggered public outrage, with many condemning bystanders for not coming forward to save Rifat.
Minni, who was seen in the video clip screaming while desperately trying to stop the two men from attacking her husband with sharp weapons, was made the first witness in the case.
Citing the bail petition of Minni, her lawyer Jamiul Hoque Faisal told The Daily Star that they have examined the trial court verdict of Rifat Sharif murder case and found that there are some errors in the verdict.
The HC is yet to fix any date for hearing the bail petition, he added.    
On November 4, 2020, the HC admitted for hearing the appeal filed by Ayesha Siddika Minni challenging the Barguna court verdict that convicted and sentenced her to death in the sensational murder case.
The HC also stayed the trial court order that fined her Tk 50,000 in the case.
A Barguna court on September 30, 2020 sentenced six people including Minni to death in Rifat Sharif murder case.