Retracing Fardin's Last Steps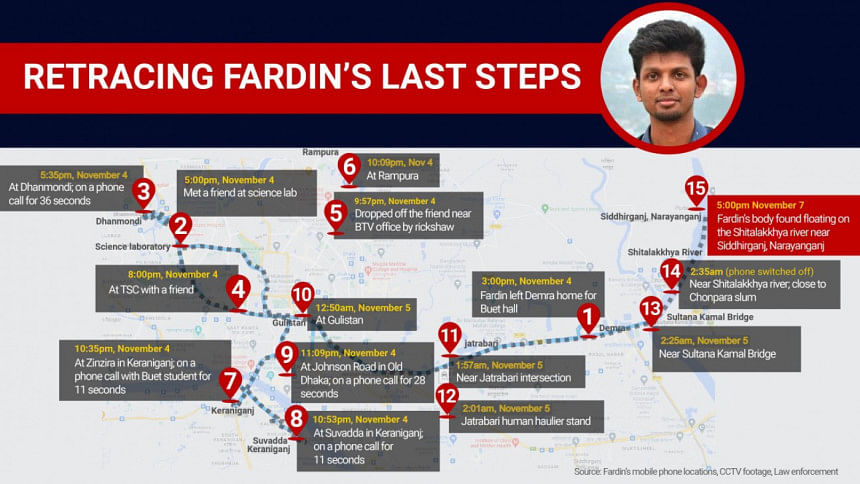 A month has gone by since Buet student Fardin Noor Parash was murdered. But investigators are yet to make any significant progress in the murder probe.
TIMELINE
November 5 –
Kazi Nuruddin, father of Fardin Noor Parash, 24, filed a general diary with Rampura Police Station, as his son did not return home after going out on November 4.
November 7 –
Fardin's body was found floating on the Shitalakkhya river in Narayanganj's Siddhirganj around 5:00pm.
November 8 –
Sheikh Farhad, a resident medical officer at Narayanganj General Hospital, said that there were signs that Fardin was "physically tortured" before his death. "There were injury marks on his head, chest, and different other parts of his body."
Fardin's phone, wallet, and watch were found on his body.
November 9 –
Rafiqul Islam, officer-in-charge of Rampura Police Station, said Fardin's mobile phone location was last tracked in Keraniganj, where he went through Old Dhaka's Johnson Road.
November 10 –
The victim's father filed a murder case with Rampura police station.
Amatullah Bushra, a friend of the deceased, was arrested and placed on a five-day remand.
Police said Fardin was seen on a rickshaw with Bushra in the capital's Rampura area around 10:00pm on November 4.
The case was transferred to the Detective Branch of police for investigation.
Shaheen Miah alias City Shaheen, 35, wanted in 23 cases, was killed in an alleged gunfight with Rapid Action Battalion.
November 11 –
Police said they are suspecting that Fardin was murdered in Narayanganj's Chonpara. His mobile phone was last found active in Chonpara at 2:35am on November 5.
Police said DMP's DB and Narayanganj police raided the Chonpara slum to arrest the suspected murderer. However, no one was arrested.
Fardin's classmates turned down the claim that he went to Chonpara to buy drugs. "In the last three years, I never even saw him smoking," said Saadman Sakib, a third-year student of civil engineering at Buet.
November 12 –
Police said Fardin's friend Bushra had nothing to do with the murder.
Both police and Rab said they were yet to find anything concrete and that they were analyzing different angles and clues.
Police said they were investigating possible links between Fardin's death and the discovery of an unidentified body a day after his body was recovered.
Sources confirmed the arrest of two suspected drug dealers in the Chonpara slum, but there was no official confirmation.
November 13 –
Family members claimed the arrest of four drug dealers from Chonpara slum—Raihan Mahmud, Uzzal, Roni, and Nuruzzaman—for alleged link with Fardin's murder.
But there was still no official confirmation.
November 14 –
Rab said they found evidence of Chonpara slum's drug peddler Rayhan Mahmud and his gang's involvement in the murder.
November 15 –
Rab said they had enough information to suspect that Fardin was killed in the Chonpara slum by Rayhan Mahmud and his gang.
November 16 –
Fardin's friend Bushra was sent to jail as no link was found with the murder.
November 17 –
Police said Fardin was last seen in Jatrabari, heading towards Biswa Road and Tarabo on a human haulier with four people around 2:05am on November 5.
November 19 –
After analyzing CCTV footage, police said Fardin was seen getting off at the Demra Staff Quarter intersection at 2:27am and headed towards the Chonpara slum on a CNG-run auto-rickshaw.
The victim's father refused police claims and said he did not understand anything watching the CCTV footage.
November 25 –
The family expressed frustration as investigators failed to identify the killers and establish a motive.
November 27 –
Police said they were considering new theories to know how and why he died.
December 3 –
Police said they were now trying to determine if an accident caused his death or whether he died by suicide.