Removal of Topsoil: Traders ruining Habiganj cropland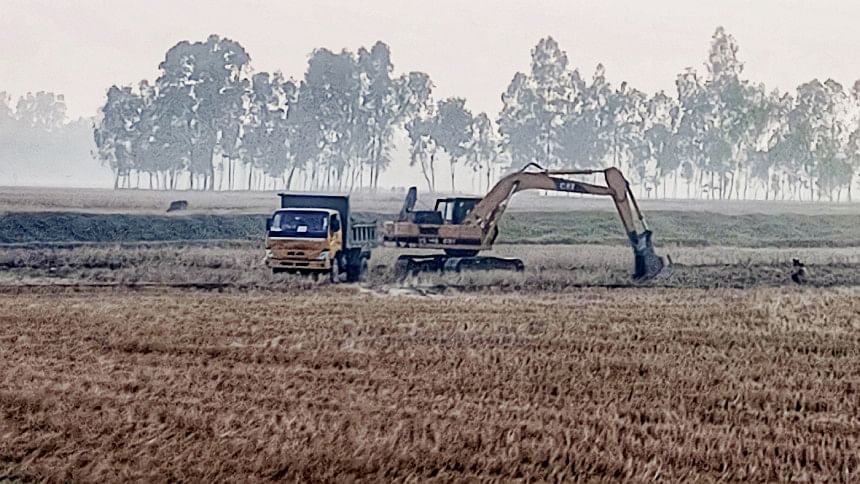 Cutting, selling and using topsoil from cropland for different purposes is going on unabated at many places in Habiganj's Nabiganj upazila, defying laws.
This illegal activity is not only affecting fertility of the agricultural land, but is also leaving a harmful impact on the ecology and environment, said experts.
Environmentalists have demanded that the upazila administration take immediate action in this regard.
During a recent visit to Parkul, Syedpur under Aushkandi union, Haibatpur, Sultanpur, Ratanpur, Kurshi, Bajkashara under Kurshi union, Bashdor, Bausa, Rifatpur, Rustampur under Debpara union, Sataihal of Ghaznaipur union, and Khagawra under Paniumda union, this correspondent excavators cutting topsoil in at least 50 places.
Unscrupulous traders involved in the business are mostly selling the soil to the brick kilns.
This correspondent also saw workers cutting soil from croplands with four to five excavators and filling up a nearby low land with those.
When asked, they said they were just workers hired to cut the topsoil.
Meanwhile, locals were also reluctant to point fingers at the perpetrators as they were politically connected.
Farmer Farhadul Islam said, "I used to get 10 maunds of paddy from my half-bigha land, but the yield has drastically fallen since I sold the topsoil to a local soil trader two years ago."
According to Bangladesh Environment Conservation Act, cutting of naturally created soil is completely prohibited. Moreover, changing the class of agricultural land, by cutting the surface soil, is also illegal.
Contacted, Bangladesh Paribesh Andolon, Habiganj unit, general secretary Tofazzal Sohel said the country's cultivable land is declining rapidly every year.
Dr AHM Mahfuzul Haque, chairman of Plant Pathology and Seed Science Department at Sylhet Agriculture University, said soil fertility states the ability of soil that sustain growth of the plant.
Up to six inches upper layer of the soil provides nutrients and help the plants grow, he said, adding that production has declined because plants are not getting required nutrients due to cutting of topsoil.
Nabiganj Upazila Agriculture Officer AKM Maksudul Alam said if illegal removal of topsoil continues like this vast cropland will turn unfertile in near future.
 Nabiganj Upazila Nirbahi Officer Imran Shahriar said after investigation they will take necessary action in this regard.